The Best Age for Disneyland: The Ultimate Guide to Help You Decide
A Disneyland vacation takes a lot of money and planning – so making sure you are taking your family at the right ages can be really important! But is there one age that's better than another? In this post, we go over various age groups, the pros and cons, and the best attractions to help you decide if this is the best time for your magical family vacation!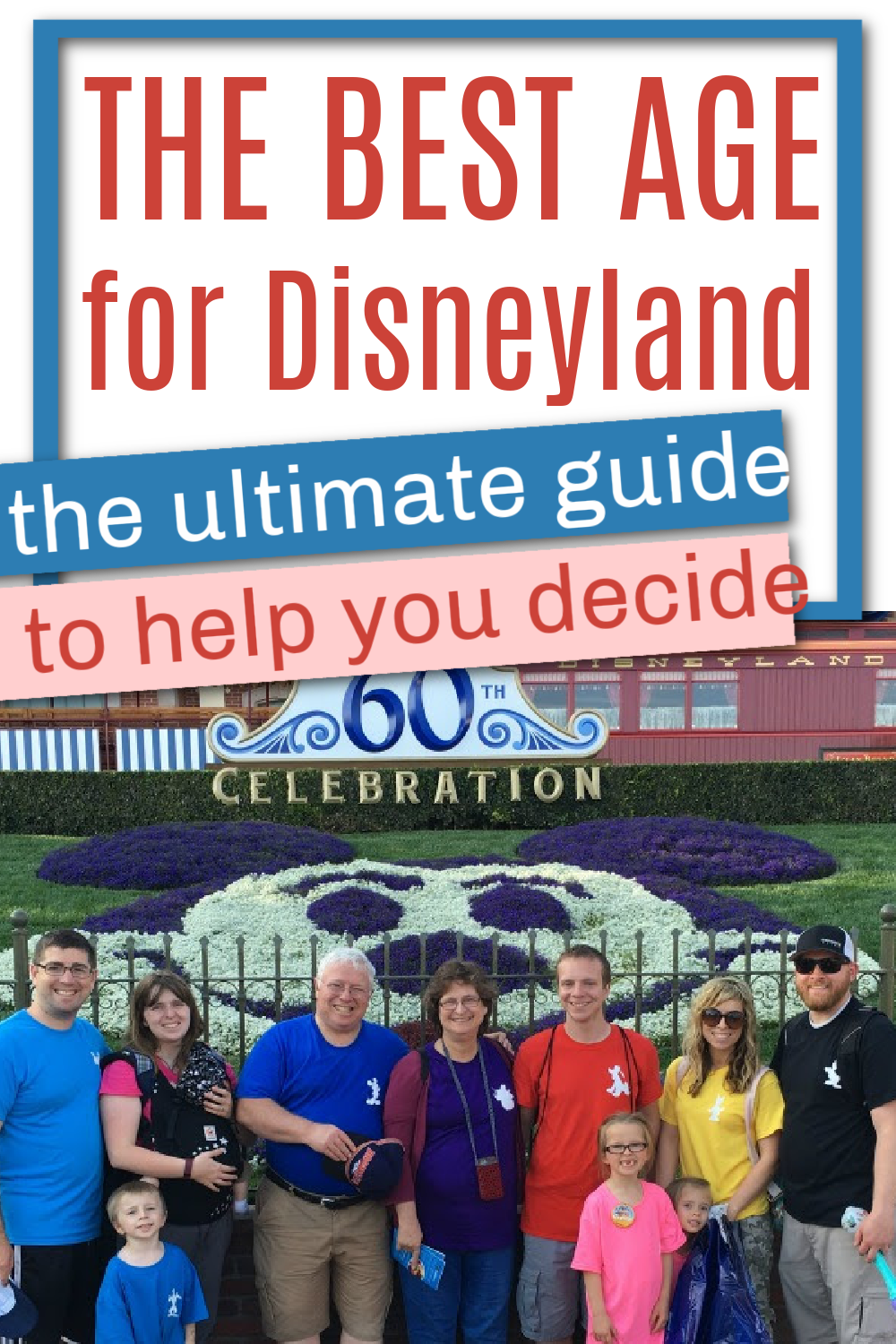 "What is the best age for Disneyland"
This is the million dollar question asked by families every year – When should they take their child to Disneyland?
Is there truly a best age to visit the Disney parks?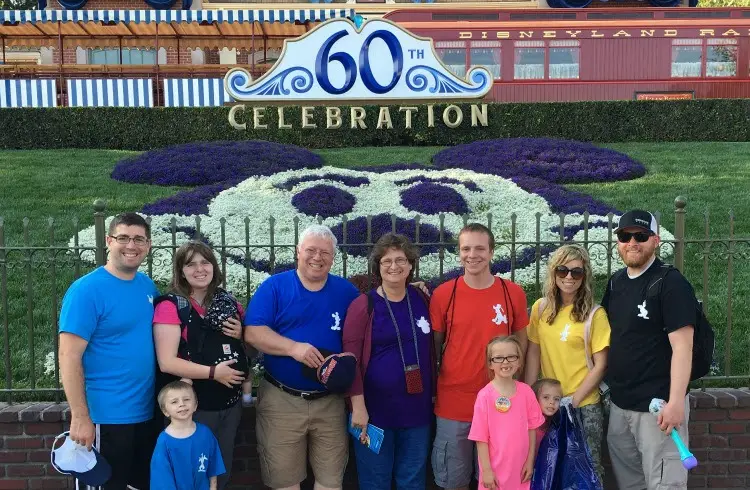 The truth is – there isn't just one good age to go to Disneyland.
I have taken my children to Disney as young as two months old and as old as nine. I have gone as an adult and as a teenager. We've traveled with other families and grandparents.
And every trip has been unique and memorable. Each experience has helped me realize that there is magic in every age.
It is one of the theme parks that families of all shapes and sizes can enjoy – from baby to grandparent.
However, if you are trying to find that sweet spot – this post should help you determine that. Many people can only go to Disneyland or Disney World once in their lives, so finding a time that is the most perfect can feel important.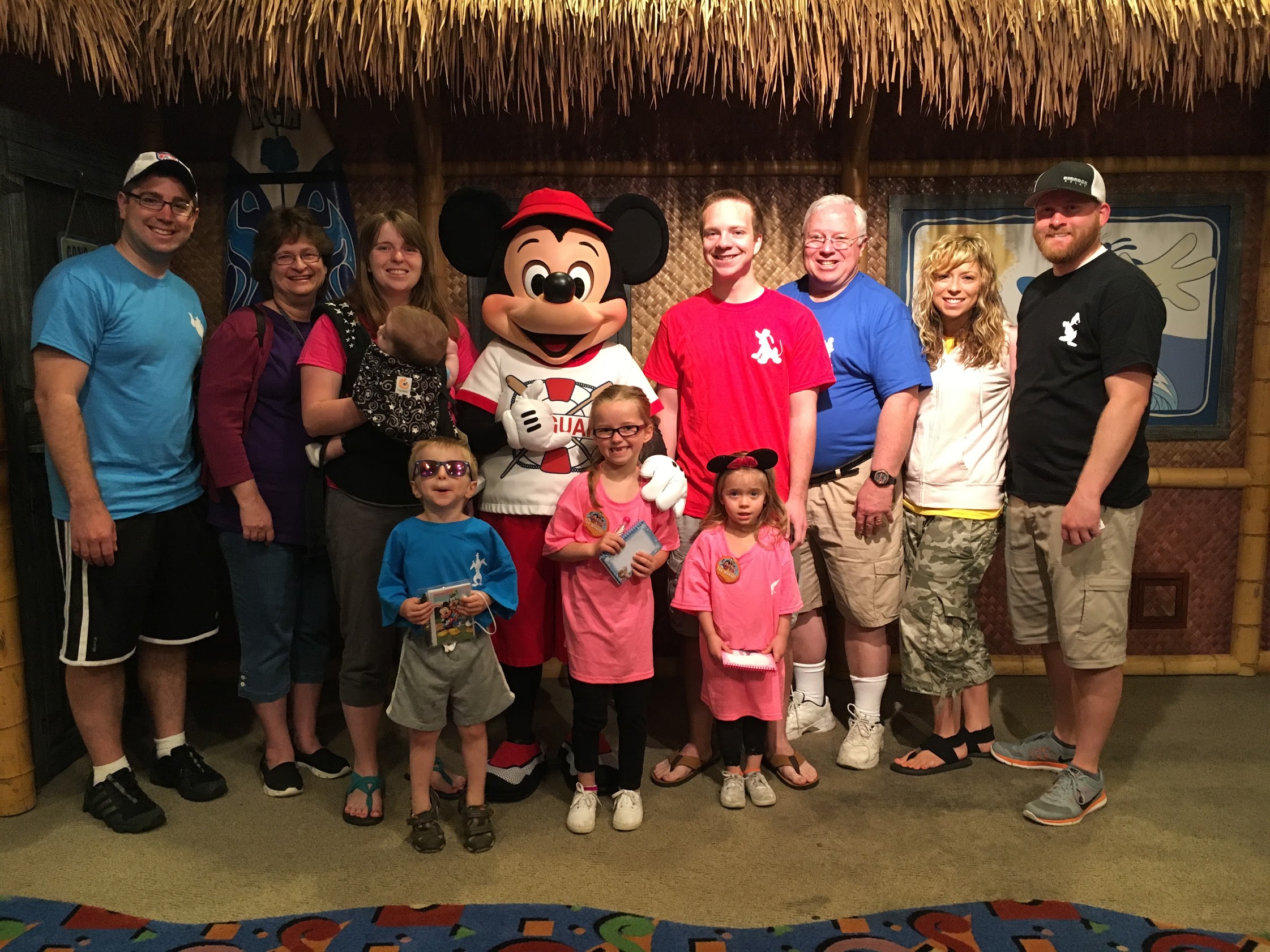 There's no one right time or perfect age for everyone – it's all about finding the right time for your family!
Let's dive in – below I'll share my best tips for going with different ages to help you decide when the best time to take YOUR family is.
Book with Get Away Today
Are you still in the planning stages of your trip? Make sure you book through our friends at Get Away Today. I have booked all my Disney vacations through them since 2008, and they are all about helping you make the BEST trip for your family. You can get $10 off a vacation package using the code MFTG or mentioning us when you book! You can book through the Get Away Today website or by calling (855) 438-2929.
Disneyland with a Baby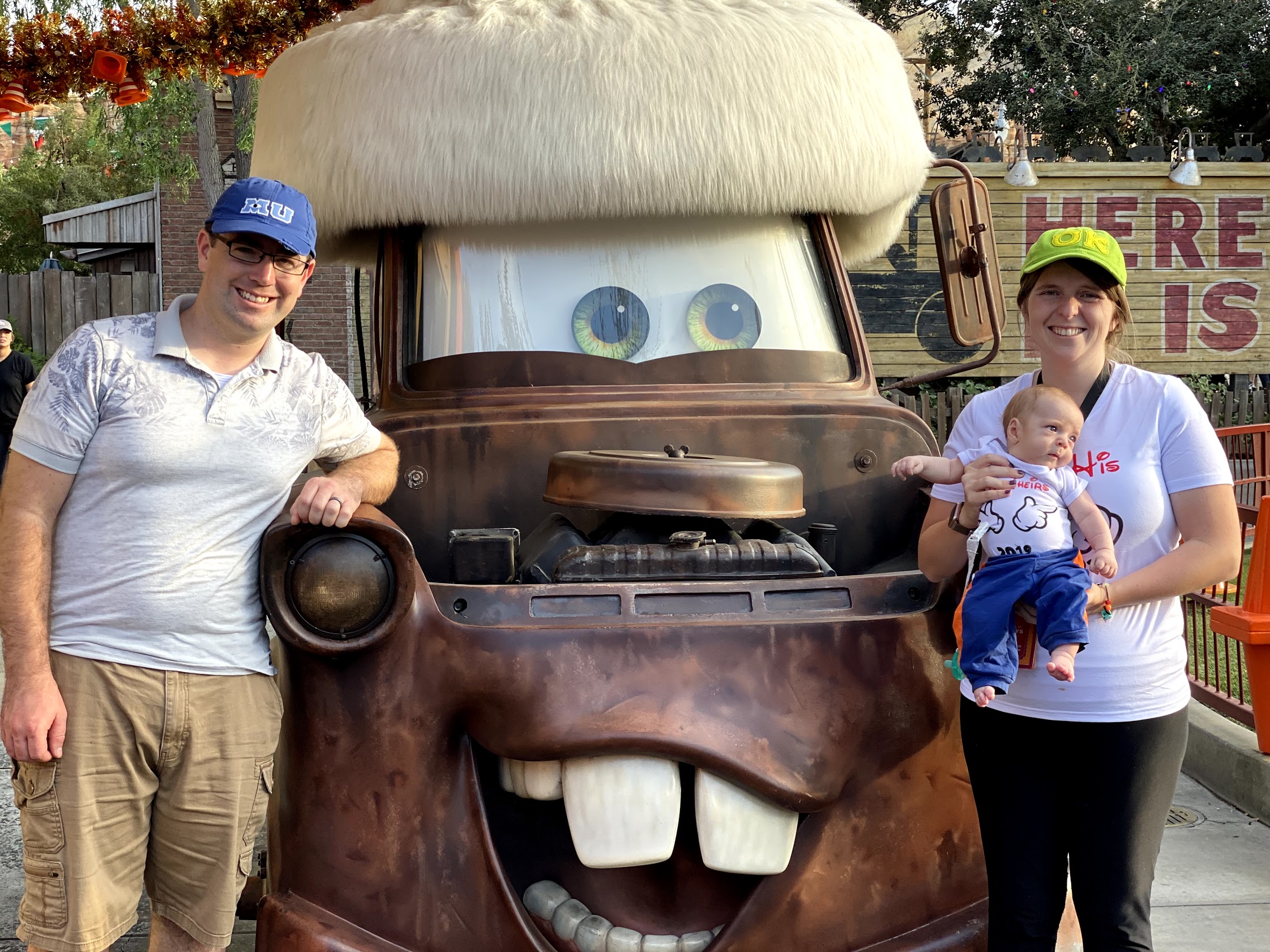 When we tell people we have taken our babies to Disney, we usually get that "Are you insane?" look from people. You know what I'm talking about.
Is Disneyland with a baby the easiest? Nope. But can it still be fun? Absolutely.
For my 30th birthday, Forrest and I went to Disneyland with our three-month-old. We had so much fun!
Now, if you just have a baby (no older kids) and this is your once in a lifetime trip, it probably wouldn't be my first choice when to go.
But if you have older children and some help and one your kids happens to be a baby, I wouldn't let that hold you back from going. You really can have a great time at the happiest place on earth when you have a baby with you.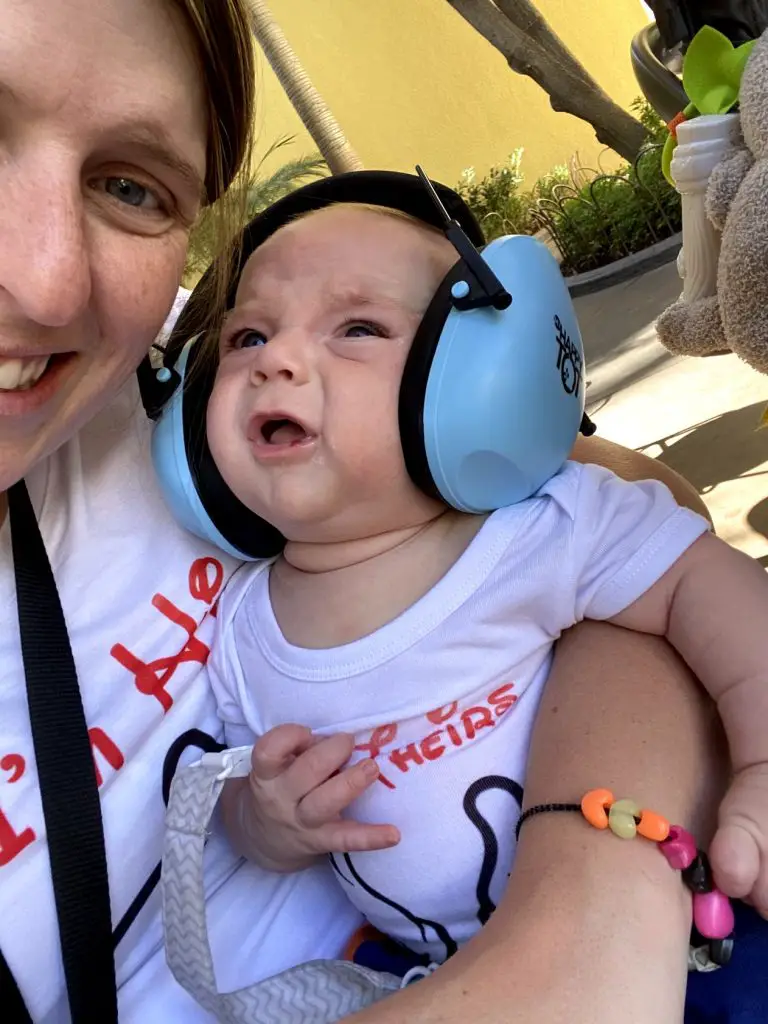 Pros
Relatively easy to take them around the park in a carrier or stroller. I find babies are less finicky about taking naps on the go in the park than say, a toddler. There are always exceptions to this – especially if you have a baby who is very particular about their sleep environment. But we've found this to be true when we've brought babies.
Disney has great baby care centers throughout all their parks. These are perfect for quick diaper changes, feeding, and getting any supplies you may have forgotten. You can also cool down here with your baby, which is great. They have these in both parks, and they are very clean.
Your baby isn't going to be opinionated on what you do – with older kids, you'll be pulled in different directions based on their preferences and what they want to do, but with babies – they'll just go wherever you want.
Disneyland has a lot of baby-friendly rides. I definitely think it's one of the best baby-friendly theme parks ever! Most of the time you can wear them in a carrier on the rides.
You can take advantage of Rider Switch, which allows you to have someone stay behind with the baby and go to the front of the line afterward. Usually this comes with the ability for a couple of other people to go with them, so you don't have to worry about missing all your favorite rides!
Lots of places to sit if you need to breastfeed or give a bottle
Cons
It's hard to have a full day at the park – just because it's a really long day! I don't recommend going from sunup til sun down with a baby in tow.
Many of the rides that are baby-friendly can also be REALLY loud. This can be pretty overwhelming for some babies, and even if it doesn't bother them, I always worry about what the sound might do to their hearing. I definitely recommend getting infant ear protection!
If you are bottle feeding, it can be a pain to try and prepare bottles on the go while you are in the park.
Someone always has to stay with them – even though the Rider Switch is super helpful, the fact of the matter is – someone is always going to be left behind. You'll never get to go on a ride altogether with your entire group.
Most of the year, Disneyland is going to be hot – babies can overheat easily, so you need to take extra precautions to ensure they are protected and well-hydrated.
Disneyland attracts people from all different cities and countries and places around the world. With infants having weaker immune systems (especially if they haven't been fully vaccinated), they may be more susceptible to picking up illnesses in the park – even a common cold.
Best Rides and Attractions
There are a lot of great rides and attractions that your baby can participate in – this isn't an all exhaustive list, but here are a few you can definitely enjoy with them! I've taken my kids on a lot of rides as babies, though many of them are pretty loud, so I haven't included those below.
it's a small world
Dumbo the Flying Elephant
Jungle Cruise
The Enchanted Tiki Room (great place just to sit down for awhile that also happens to be air conditioned)
Pixar Pal-a-Round (just make sure you get in a cart that doesn't move)
Disneyland Railroad
Parades – my kids always enjoy the bright sounds and fun music
Disneyland with a Toddler (2-3)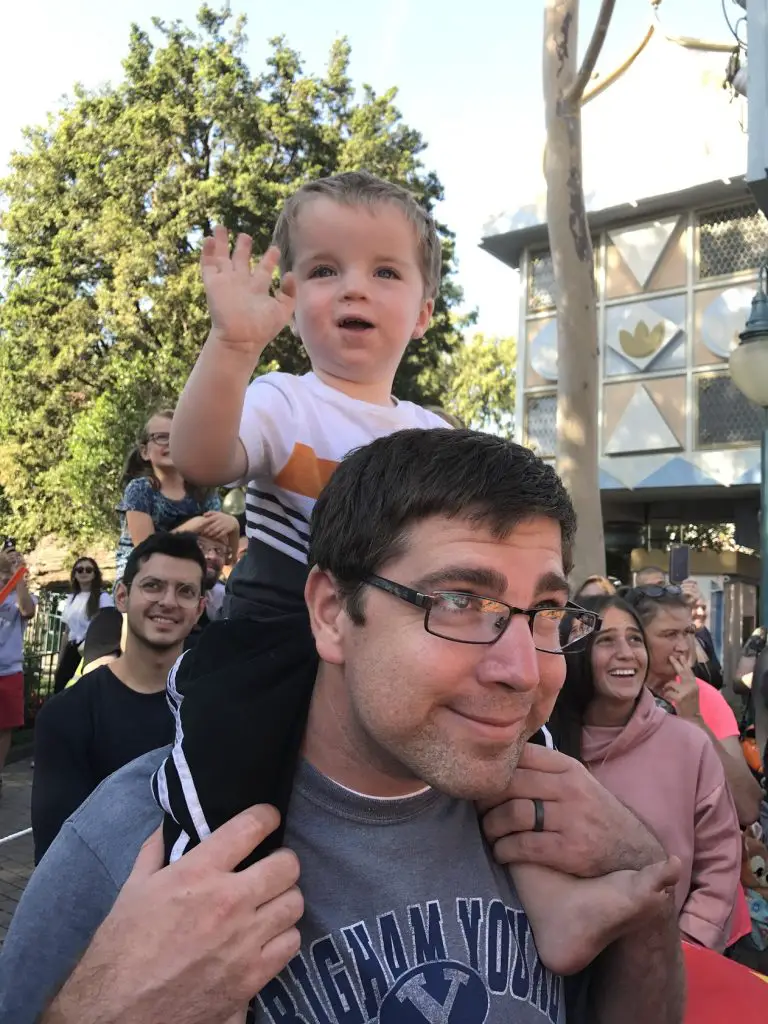 Toddlers and Disneyland can be SO fun but so exhausting. They tend be less likely to fall asleep in the park, get crankier, and start throwing tantrums. They are also at an age where they might not be so happy about not being able to go on all the rides with everyone else.
It can be a really magical experience though to visit the Disneyland Resort with toddlers – you just need to be prepared and not expect to spend the entire day running from attraction to attraction.
Whenever I've been at Disneyland with a toddler, I think how nice it would be to stay on site at one of the Disneyland resorts. It would make it so much easier if you could just pop back to the hotel for a quick nap and be right back at the park. When we leave the park with our toddlers, it's usually a bit of a trek to get back to the hotel – so we rarely come back.
If you can go with grandparents, this would be a good age to bring them!
If I'm being honest, though, this is probably my least favorite age to take a child to Disneyland 🙂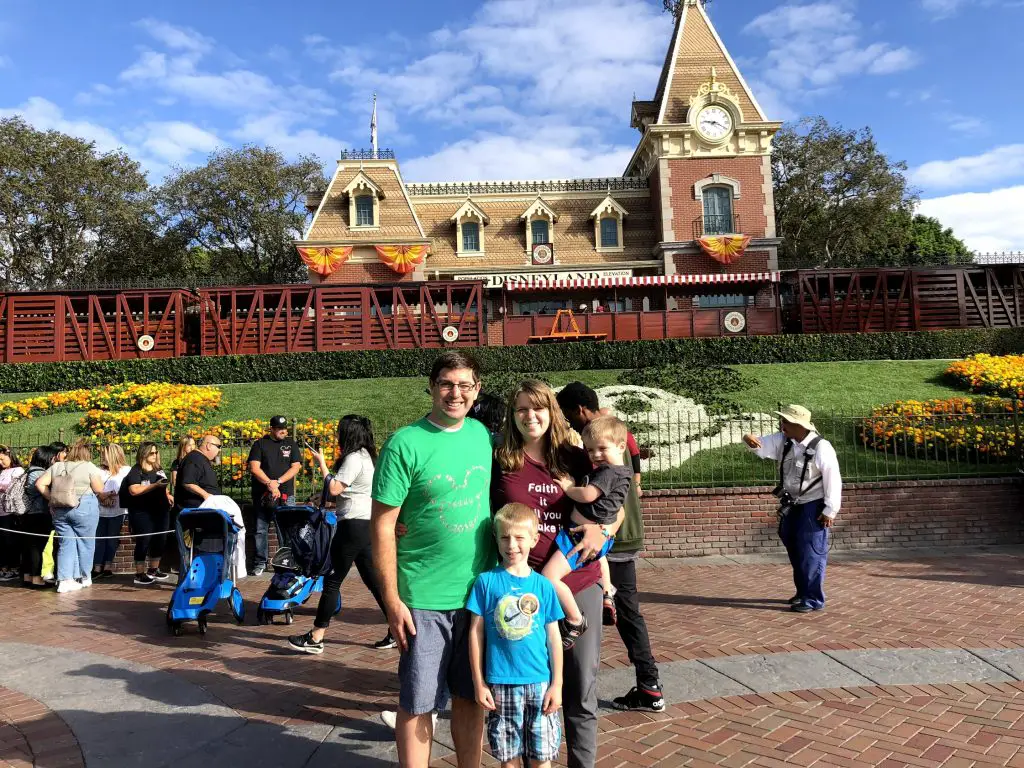 Pros
It can be so very magical with a toddler, especially when they see their favorite characters in real life!
There are lots of toddler-friendly rides – and thank goodness for that, because you'll probably be riding them over and over again!
Cons
Your child won't be tall enough for a lot rides – and in my experience, this can be super sad for the kids (especially when they are closer to three), especially if they see everyone else going on them.
Long days at the park are definitely difficult with toddlers, especially if they aren't on their regular schedules
Nap times are trickier – toddlers can be less likely to fall asleep in the park with everything going on around them, and they probably won't get as long of a nap as they might normally be used to
Toddlers can be very opinionated about what they want to do – and they can also be very intense about wanting toys they see. Avoid souvenir shops at all costs!
Potential for tantrums – toddlers are known for toddlers, and I feel like I see more toddlers having tantrum in the park than any other age
They don't always have the longest attention spans, so going to live shows or longer rides might not be very fun for them.
Best Rides and Attractions
All of the rides I mentioned under babies are great for toddlers too, but I'd also add in some others that might be a little more "dark" and "noisy". I actually think kids this age are less likely to get scared of some of these rides (it's closer to 4-5 that I see that fear start to come out)
There are some great playgrounds that toddlers will love! I really love the one in Toon Town. When we took one of our kids as a toddler, they would have spent all day there if we'd let them
Speaking of Mickey Mouse Toon Town, it's going to be a great place to take your toddler. The rides might not be as appealing to them but they will love walking through the houses!
Alice in Wonderland
Casey Jr. Circus Train
The Many Adventures of Winnie the Pooh
it's a small world
Peter Pan's Flight
King Triton's Carousel
Little Mermaid
Inside Out Emotional Whirlwind
Monster's Inc: Mike and Sully to the Rescue
Tarzan's Treehouse
Storybrook Land Canal Boats
Disneyland with a Preschooler (4-5)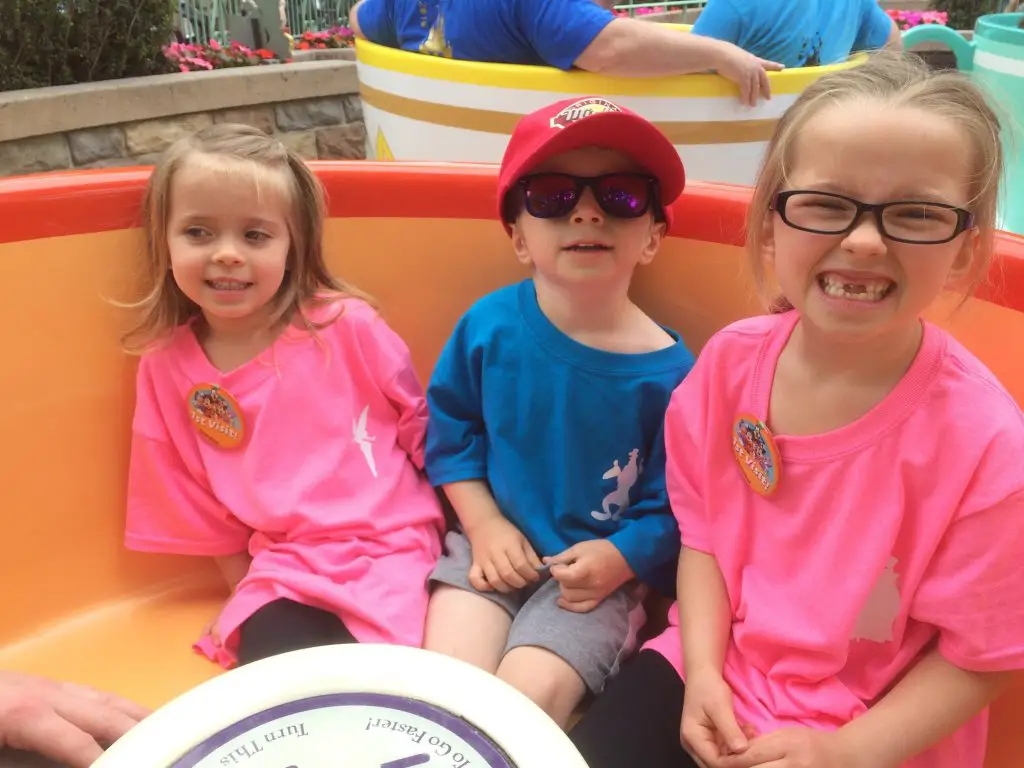 I can honestly say that this is one of the most TRULY magical ages to take a child to a Disney park. I feel like you can just feel the excitement as they see their favorite characters come to life. This is definitely one of my favorite ages to go to Disneyland with kids.
This was when I first went to Disneyland as a child, and I still have very vivid memories of that trip. Those are probably my most distinct memories from that time in my life!
Children this age may not be able to go on every ride, but I feel like they just soak it all in – maybe a little beyond the age of five. But really, it's the best. I wish I could remember going to Disneyland when I was this age, but it's so special seeing it through my kids age.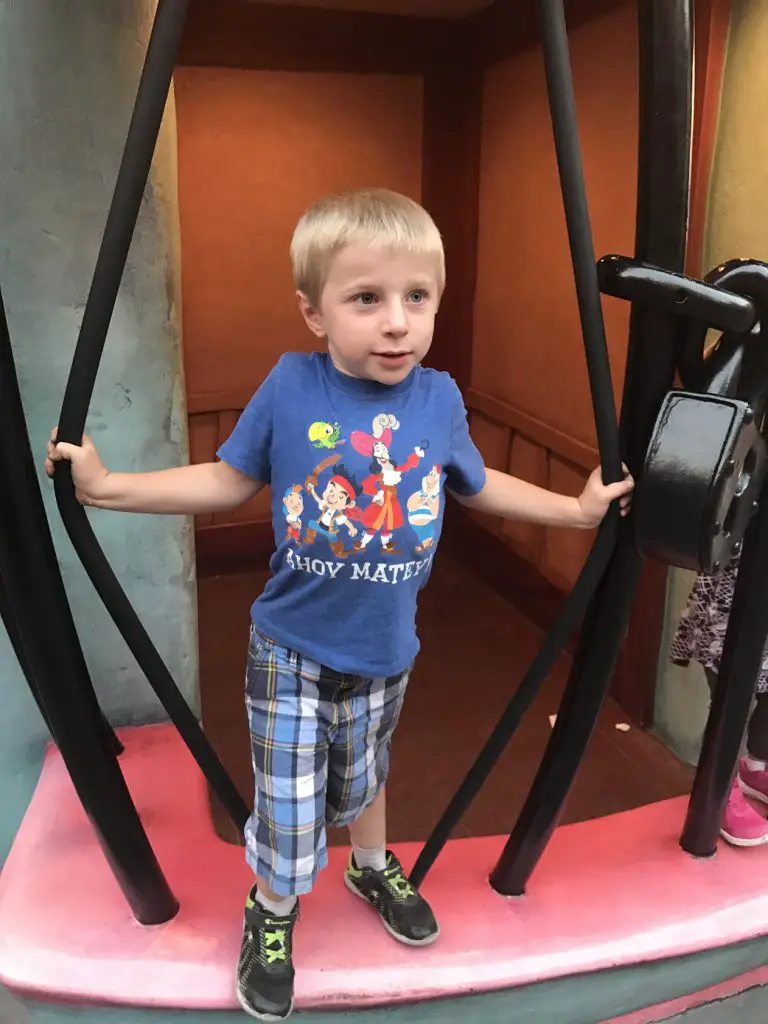 The memories your child may have a trip at this age aren't going to be as vivid as some of the other ages, but I promise, they will absolutely love it! And even more, you'll have SO much fun watching Disney through the eyes of your younger kids.
Pros
Kids this age tend to have more stamina – they don't usually take naps during the day, they can walk more (though a stroller can be helpful for the very long days), and they are generally a little less likely to throw temper tantrums.
Very magical – some of my favorite memories with my kids and seeing them totally light up when they saw their favorite characters or scenes from a movie
They can usually go on MOST rides – though I would say that's true closer to the age of five. We took my oldest when he was four, and he was about 1/2″ too short for a lot of rides still, but he was a small kid. We took my second son to Disney World at the age of five, and the only ride he couldn't go on was Avatar. I think at Disneyland, he wouldn't have been able to go on Indiana Jones (but he is also very small for his age!)
This is the prime age for excitement about Disney characters!
Cons
Long lines can be hard for this age, especially since you might not have a stroller with you where they can rest.
I find a lot of kids have a lot of fear at these ages – they don't want to try as many rides, and the darker/louder rides might feel scarier for them.
This age also seems to be the most likely to be lost. You may not insist on holding their hand as much, and their attention can be distracted really easily. How do I know this? Well, my son got lost at Disneyland when he was four.
Your child should remembers bits and pieces of the trip, but it may not be as vivid as when they are older.
Best Rides and Attractions
All of the rides listed in the toddler section should be great for this age, plus:
Roger Rabbit's Car Toon Spin
Autopia
Turtle Talk with Crush
Astro Orbitor
Silly Symphony Swings
Disney Junior Dance party
Finding Nemo Submarine Voyage
Gadget's Go Coaster
Golden Zephyr
Jessie's Critter Carousel
Luigi's Rollickin' Roadsters
Mad Tea Party
Mater's Junkyard Jamboree
Redwood Creek Challenge Trail
Frozen Ever After
Character Dining
Soarin' Around the World
Web Slingers
Pirate's Lair on Tom Sawyer Island
Again – this doesn't mean your child won't enjoy some of the other rides I'll list in older categories (some of them, I'm sure your child would!), but I find they can be a little hit or miss. Most of the ones above are going to be solid hits for most kids.
A lot of people see the Radiator's Springs racers and think their kids this age will love it – which some will. But it's actually a little more intense than you might expect. My son was four when he went on it, and he was a little traumatized!
Two other rides I didn't mention were Astroblasters and Midway Mania. My kids this age go on these rides and have fun, but I find they need more help than older kids do. But you can definitely take them on them!
Disneyland with an elementary child (6-10)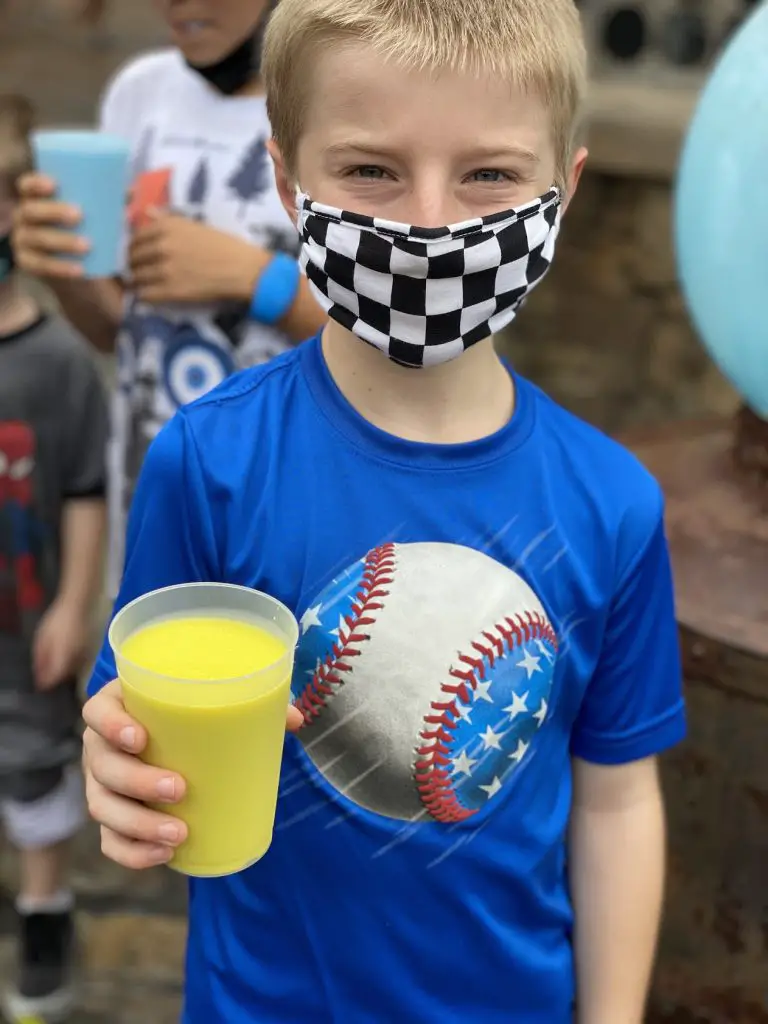 At this point, your child is likely to meet all the height requirements for rides, so you won't have to worry about any type of disappointment when it comes to going on a ride for that reason. Children this age still appreciate the magic of Disneyland, and they usually still get excited about the characters (though they may act less excited the older they get).
This is also an age where they might start to have stronger memories of the trip, so if you are looking for a time where they still enjoy the magic of Disney yet are old enough to remember the trip – as well as be less likely to throw a tantrum, elementary aged is great.
We had a lot of fun last year at Disney World with my (then) eight-year-old. He had previously been terrified of pretty much every ride, and this time, he went on everything and LOVED it!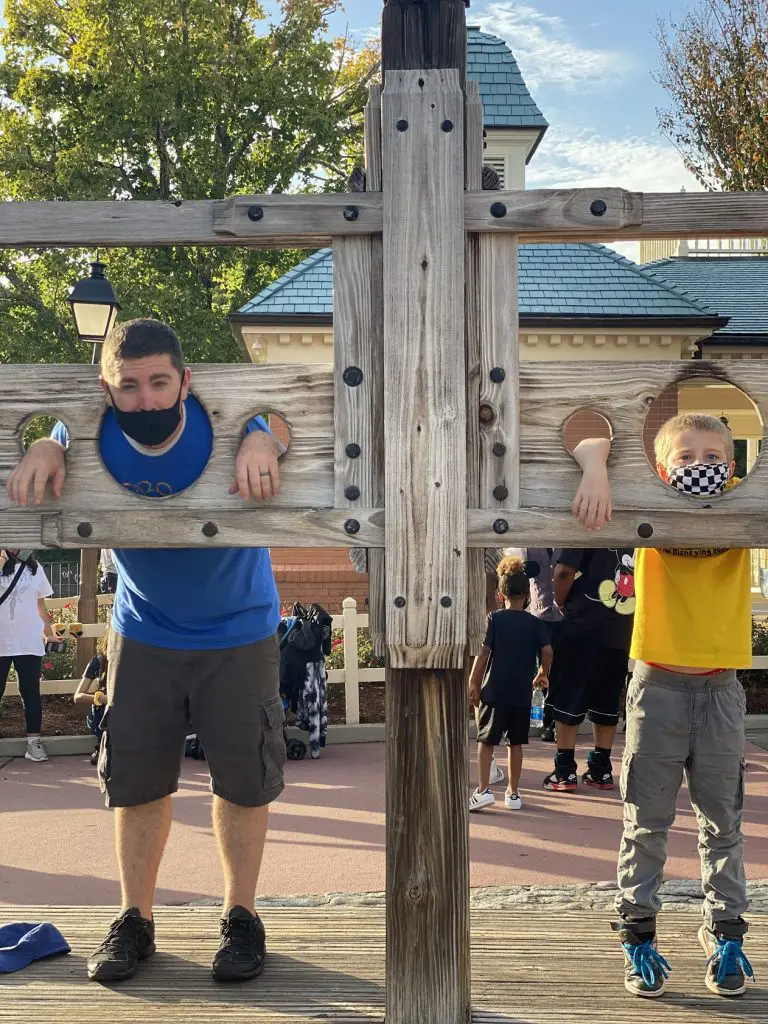 Pros
Kids this age are going to be more easily meet all the height requirements for any ride they want to go on.
They will definitely remember the trip
I find kids this age to be pretty enthusiastic and excited about being at Disneyland – they aren't too cool to hang out with their parents 🙂
They can keep going for longer – no need to stop a lot for breaks, take naps, etc. They generally will keep going as long as you'll let them!
Cons
May not enjoy the "little" kid rides anymore – though I find they are usually willing to go and have a fun time once they are on them 🙂
Some kids are still a little fearful at this age – though they might be more easily convinced to at least try something
Best Rides and Attractions
Many of the rides previously listed will still be a lot of fun for this age group, but you can also add these rides to your day and be able to ride them with them.
Splash Mountain
Radiator Springs Races
Big Thunder Mountain Railroad
Grizzly River Run
Star Tours
Goofy's Sky School
Star Wars Launch Bay
Pirates of the Caribbean
Haunted Mansion
Toy Story Midway Mania
Buzzy Lightyear's Astroblasters
Millenium Falcon Smuggler's Run
Star Wars: Rise of the Resistence
Some of the more intense rides listed in the next category will be fun for this age as well, depending on the child. I know my oldest son and their cousins we went with last time weren't as enthusiastic for some of them 🙂
Disneyland with middle to high school (11-18)
And finally, the last stage of childhood – middle and high school. Obviously, this is a big age range, so not all of this will be applicable. But take from it what you will.
This age is great because you know that your child will remember the trip, they can go on every ride, and they can just go, go, go.
However, depending on the kid, you might start to get more of a "I'm too cool for this" or "My parents are so lame" attitude. This obviously isn't true for everyone, and there is plenty of Disney Magic to be found – but I find you sometimes have to dig a little deeper to get that to come out.
You'll probably spend some more time a the Disney California Adventure Park, as that is a lot of fun for tweens and teens.
Pros
They will remember it
They can go on every ride
They can go all day long and not need a break – you might have a harder time keeping up with them, even!
Cons
The trip may not seem as magical – even if they LOVE Disney, it's just different from taking a younger child there
Might be less likely to want to hang out with you the whole time – especially if you have other teens with you
Best Rides and Attractions
Obviously, they'll probably love any of the rides listed under the Elementary category (and probably many others as well), but here are a few more that this age will more than likely LOVE. Most teens love thrill rides.
Indiana Jones
Space Mountain
Matterhorn Bobsleds
Guardian's of the Galaxy
Overall
All in all, there is no right age for everyone – there are so many different age ranges that are blast for different reasons, and I know you can have fun at any age from 0 to 100.
However, it will be a different experience for a Disney vacation going with young children, elementary school kids, and teenagers. It's all about finding the right age for your family.
One of the best parts is just spending time together and making memories. No matter what age you are, you will do that.
And again, don't forget to save $10 on your next magical vacation when you book through Get Away Today and mention Magical Family Travel Guide or use the code MFTG.
More Posts You Might Enjoy: