Visiting Disney World during COVID-19: What Your Family Should Know
Our family just returned from Disney World. COVID-19 is very much still a problem across the world, and Disney World certainly isn't how it normally would be. However, there are many things that still make the trip magical and fun. Here is everything you should know about visiting Disney World during COVID-19.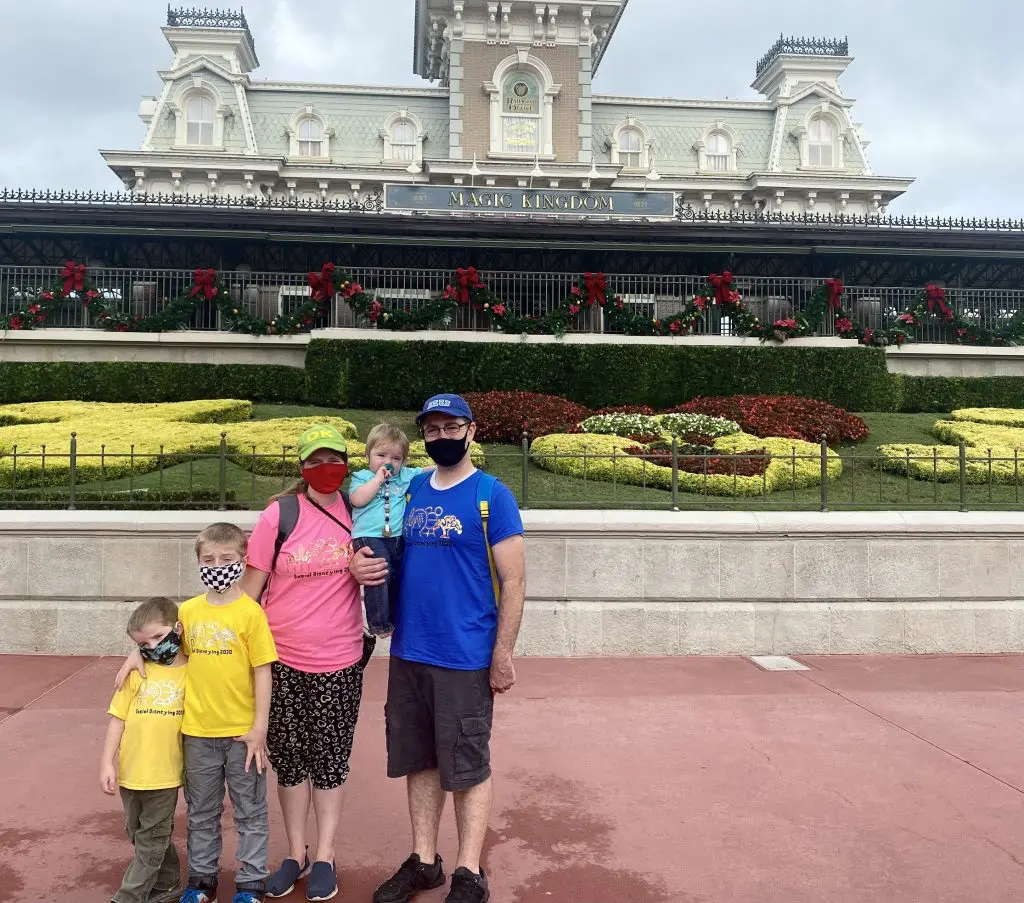 If you are trying to decide if Disney World during a global pandemic is a good idea for you, read on. We will share everything you need to know.
We went in November of 2020, and I'm sure things have changed in some ways since then. However, there are still a lot of things that have remained the same, and it's important to decide if it's worth going now and delaying for another year.
I can honestly say that this was the first time I remember not coming home a little sick from a Disney trip – probably due to the fact that there were so many precautions in place. It kind of makes me laugh when I tell people that!
We had a great time, but it was different than a "normal" Disney trip – so it's important to be aware of what to expect before you go. It can still be as magical as ever!
Book your next magical family adventure through our friends at Get Away Today! They are truly the Disney experts and can make planning your trip a breeze for both Disneyland and Disney World. You can browse their website or call 1-855-GET-AWAY. Make sure you tell them Magical Family Travel Guide sent you or use the code MFTG for $10 off a Southern California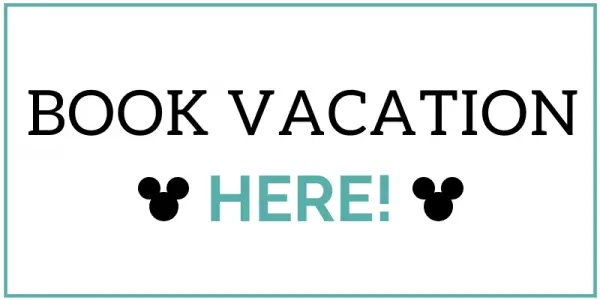 Who Should Go: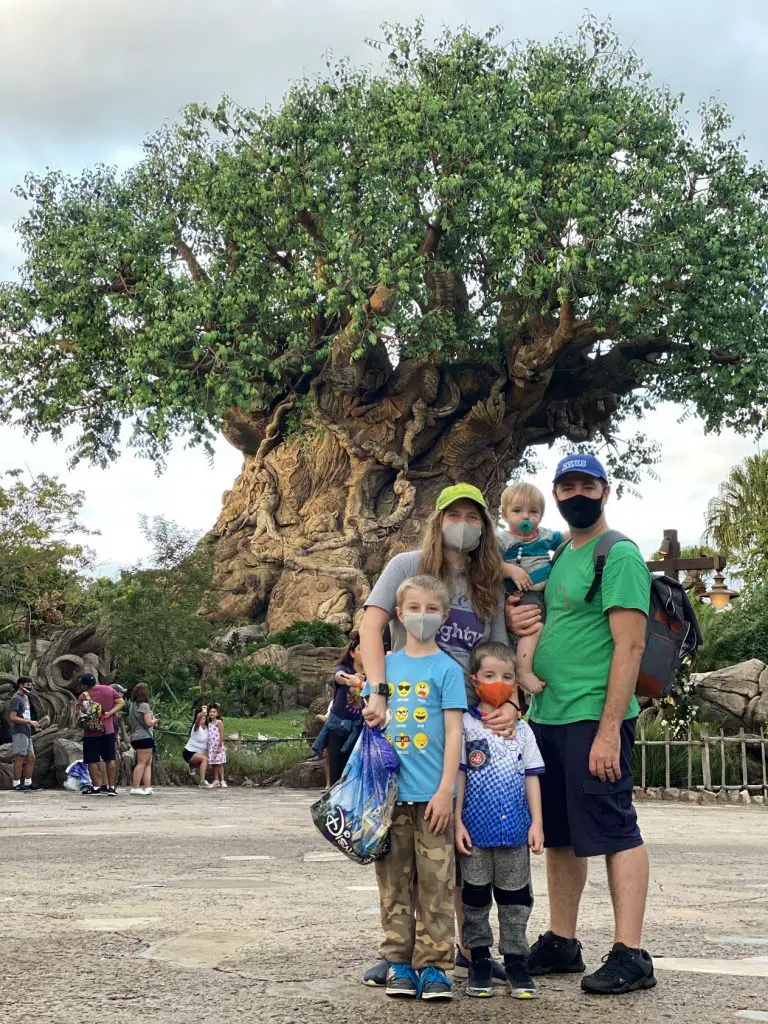 There are certain categories of people who I think will be just fine going to Disney World right now – if you fall into the categories below (preferably more than one), start your planning!
Those that love rides
I believe all the rides were open that normally would have been when we went. I didn't find that there were any rides we couldn't go on, and the experience was pretty much the same. In fact, there was more social distancing than you'd normally have on a ride or in line, which might be an added benefit for some.
If the rides are your favorite part of Disney, you won't be disappointed. There might be some delay in getting on the rides, since there are no FastPass+ options, not as many people can pile in as they used to, and they do have cleaning protocols. But I consider those minor details.
Those who don't mind wearing masks
Masks are required at Disney World for anyone three and over – and they absolutely enforce this. It can get hot and stuffy wearing a mask all day – if you have any issues wearing masks for an extended period of time, probably not the right time for you.
Also, if you have children who you think will have a very difficult time wearing a mask, it might be good to avoid Disney right now. A few employees yelled at my three-year-old nephew when his fell below his nose.
But if masks don't bother you, don't let this rule hold you back!
Those who will go to Disney World again
Regular Disney World attendee? Plan to go another time in the next five or ten years? It's definitely a different experience than you are used to, but if you'll be back – don't feel like you can't go. If anything, you can share your experience with others!
If you don't mind missing shows
There weren't many shows going on when we attended – I think the only one was the Frozen Sing-a-long (which was kind of weird, since singing was involved). I love shows, so this was kind of a bummer. But if you don't look forward to this part, you won't miss it!
If you don't mind lines
There are definitely lines. Even though capacity is limited, wait times can still be pretty high, especially during peak times and days.
Those vaccinated against COVID-19
With the vaccination being available for most eligible individuals around the country, if you are fully vaccinated against COVID-19, this might give you a little additional comfort in attending Disney World.
Who Maybe Shouldn't Go
High Risk for COVID-19
If you are at a high risk of contracting COVID-19 and having severe side effects, I would not be going to Disney World right now. There are people from all over the world there, and there's no guarantee you won't get sick (even if it's not at the park but in transit, at a restaurant, etc.)
This is your once in a life time trip
If this the ONLY time your family will probably ever go to Disney World…I would lean toward advising you to go when things are a little more relaxed. You can still have an AMAZING time, but you will be missing out on some pretty cool experiences. I feel like they've done a great job at still sprinkling Disney magic throughout the park, so even if this is your once in a life time trip, it will still be fun. I just think I'd recommend going at another time.
If you hate lines
'nuff said. If you can't stand lines, probably not a good time to go…though, honestly, I'm not sure if there will ever be a good time for you to go to Disney if you hate lines, haha!
If you only go for the food
While there is a lot of food still available, there were a lot of places that had limited menus, didn't offer some of the things I was looking for, etc. You can still get a lot of great food – but if you want to have unrestricted access to all your favorites, save your money for another time.
If you only go for the entertainment
The fireworks. The Broadway shows. The magical parades. Character meetings. These all are some of my personal favorite parts of Disney, and they were all a little less present (or not available at all).
I love character dining, and it is honestly one of my must-do experiences when we are at Disney. It wasn't available when we went, which was a bummer. Character meet and greets are limited as well – instead of running up and giving them a big hug, you can wave and take a picture at a distance.
They don't have any big parades, though they do have mini parades that pop up from time to time. I actually really enjoyed these, especially because you. never knew when they might happen – which made it so the crowds for them weren't insane!
And…no fireworks. If you have never seen a Disney fireworks show, you might not know what you are missing. But they are pretty. magical.
Covid-19 Precautions in Place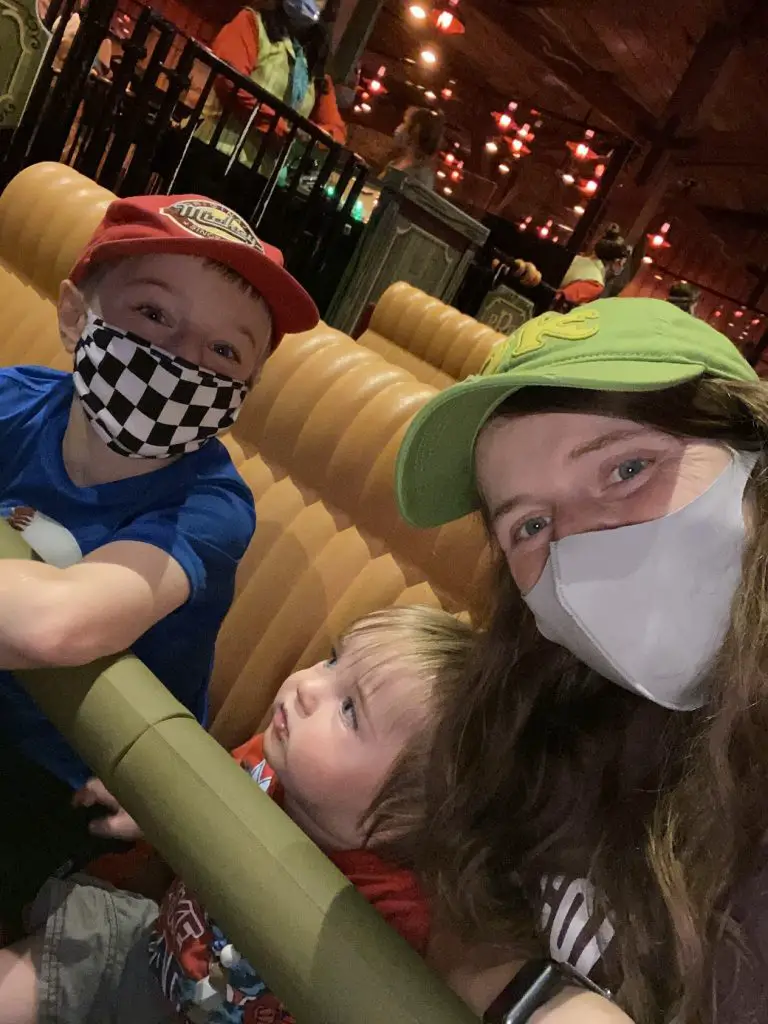 Masks
Yep, masks are required on everyone over the age of three. They have to be masks that cover your mouth and face, and, at least when we went, you couldn't use just a face shield, nor can you use neck gaiters.
Temperature/Health Checks
Before you enter the park, you will be asked a series of questions about your health status, where you've traveled recently, etc. You will also have your temperature taken with a touchless thermometer. I would recommend taking off any hats or anything that might artificially raise your temperature before entering the park.
Stationary Eating
You have to be in a stationary position while eating. I didn't think this was going to bother me, but I was surprised at how much I just wanted to walk while eating a churro or drinking some blue milk. There are no exceptions to this!
Hand Sanitizer Stations
There are so many hand sanitizer stations all over the park, and I truly hope this is a permanent fixture. It is so nice to just be able to use some hand sanitizer before and after you get off a ride, and that they were so easy to find and use.
High Touch Areas Closed Off
Places like playgrounds are closed off – I love ethese, especially for younger kids, so that was kind of a bummer. But it's understandable, because those tend to attract a lot of people!
Socially Distanced Lines
Disney has made their queues have markers that show where you should stand in line so you aren't too close to someone else. I did find these a little funny at times, because we would see 10 people crowd into one little box, which ended up having them pretty close to the next one. But it is what it is. Some lines had plexi glass installed.
What to Expect at Disney World During Covid-19 Pandemic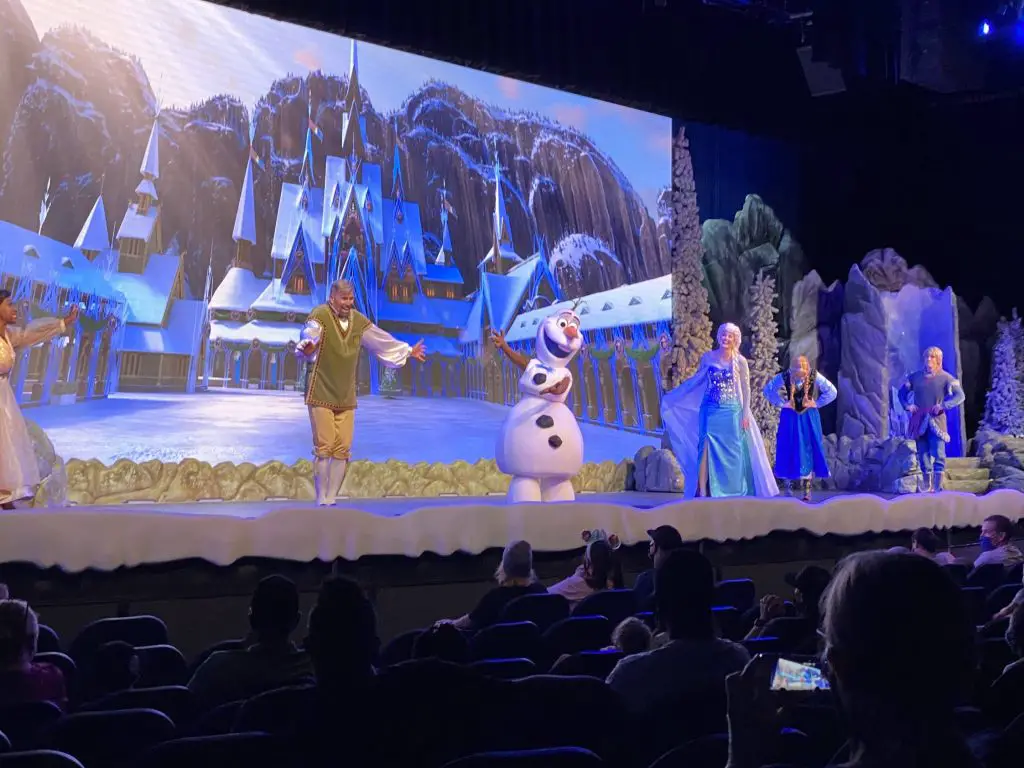 I mentioned a lot of these above, but here are a few things that might be different.
Less/No Shows
There really aren't a lot of shows, though I have heard some may be opening in the summer. I LOVE the Broadway shows at Disney, along with some of the smaller ones, so I definitely missed these.
No FastPass+
There's actually a lot of debate on whether or not this is a bad thing! Some people feel that no FastPass+ makes for a more relaxed and spontaneous trip, since they don't have to build their entire day around a couple of rides.
However, some of the more popular rides do have super long lines. I did find there was almost always a lull, and the wait times usually were less than what the app said.
One exception is the Rise of the Resistance Ride in Hollywood Studios. There are two "drops" of times for this ride each day – one at 7 AM and one around 2 PM (double check these times before you go) where you can get a reservation to go into the ride. Unfortunately, if you don't get one of these, you aren't going on the ride.
Limited dining
There are limited dining experiences, but I also found that there were also more dropped reservations. If there is a place you really wanted to go, but it wasn't available – keep checking the app. A time may pop up!
Longer lines (some times)
Some lines were longer, some were shorter. I found that the less popular, big rides had pretty reasonable lines, but the popular rides definitely had more of a wait than normal. I was occasionally surprised at how fast we could go on a ride, though, especially at certain times of the day.
Mask Police
Disney means business when it comes to mask. Don't think you can get away with skimping on the rules. I'm pretty sure they employees whose sole purpose in the park is to make sure people are wearing their masks properly. I saw one lady pull her mask down to take a picture in front of Magical Kingdom – no one was remotely close – and within seconds, there was an employee yelling, "If you don't put that mask on, you will be escorted out of the park!!!!"
Restrictions for Park Hopping
Disney World has brought back park hopping, however, you can't just leave and go as you please. There are certain times you can start entering another park. I honestly think it's a better idea just to get the one park per day passes right now!
Tips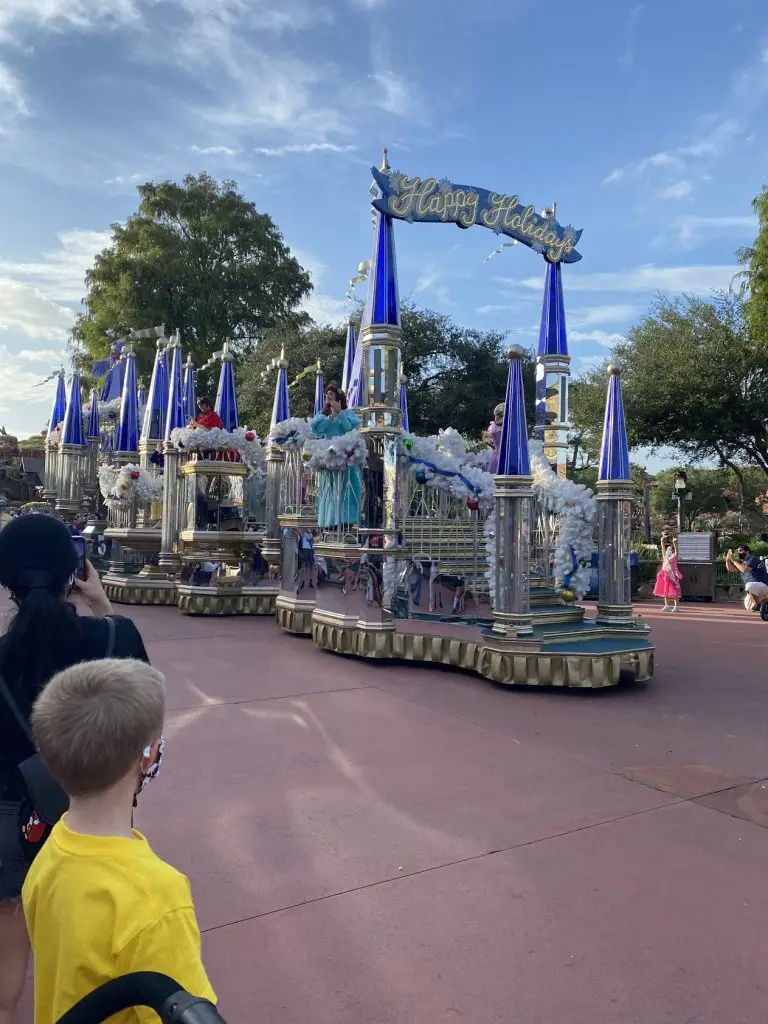 Relaxation Stations
There are a few areas throughout the parks that are set up with tables and chairs where you can sit and take of your mask. These are designed for people waiting for mobile orders, and while they would prefer you find somewhere else to eat your food, you can eat there. I really appreciated these areas.
Mobile Ordering
If a restaurant or quick service place has the option for mobile ordering – USE IT. It saves you so much time! You can avoid standing in pretty long lines with a little bit of planning.
Make a Plan
Figure out what rides you want to go on. Make them a priority. Schedule in breaks and break extra masks. I mean, most Disney trips go better with a plan even if it's not during a Pandemic – so just be aware of what's to come so you can have realistic expectations.
Bring Multiple Masks
Definitely have at least one mask per day – preferably more. They can get pretty gross quickly, especially if you are sweating a lot or have a child that likes to chew on them. We brought a bunch of reusable and disposable masks, which was nice.
Find out Cleaning Rotation
If you can figure out when a ride is going to be having their cleaning done, you can try and build your time around that. They were often around the top of the hour, but this can vary.
Download the App
The app is your hub for everything – wait time, dining reservations, upcoming entertainment, and mobile ordering. Download it before you get to the parks!
Be Flexible
Although Disney has done a good job at bringing the magic still, you need to be flexible. Rides may close unexpectedly, you might only want to spend a little bit of time in the park…do what you can to have a great time, but remember that flexibility is key!
Is Disney World Still Magical?
Absolutely! It's a very different experience than in times past, but it still has that amazing Disney magic we all look for. So much of that comes from the people you are with and your attitude. I found myself tearing up the first time we saw one of the pop up parades, because it was so magical!
Did you go to Disney World during COVID-19? Share your experience below! I'd love to hear how it went for you.
And don't forget – if you are planning a Walt Disney World or Disneyland vacation, book with our friends at Get Away Today. They are constantly monitoring the COVID-19 situation and have put their customers first during this time!