The Best Places to Buy Disney Clothes for Your Disney Vacation
Are you looking for the perfect place to buy Disney clothes for your next park visit? Look no further! This blog post will introduce you to some of the best places to find Disney apparel and accessories. Whether you're looking for something specific or just want to browse through a variety of options, these shops have got you covered. So get ready to gear up for your next magical vacation!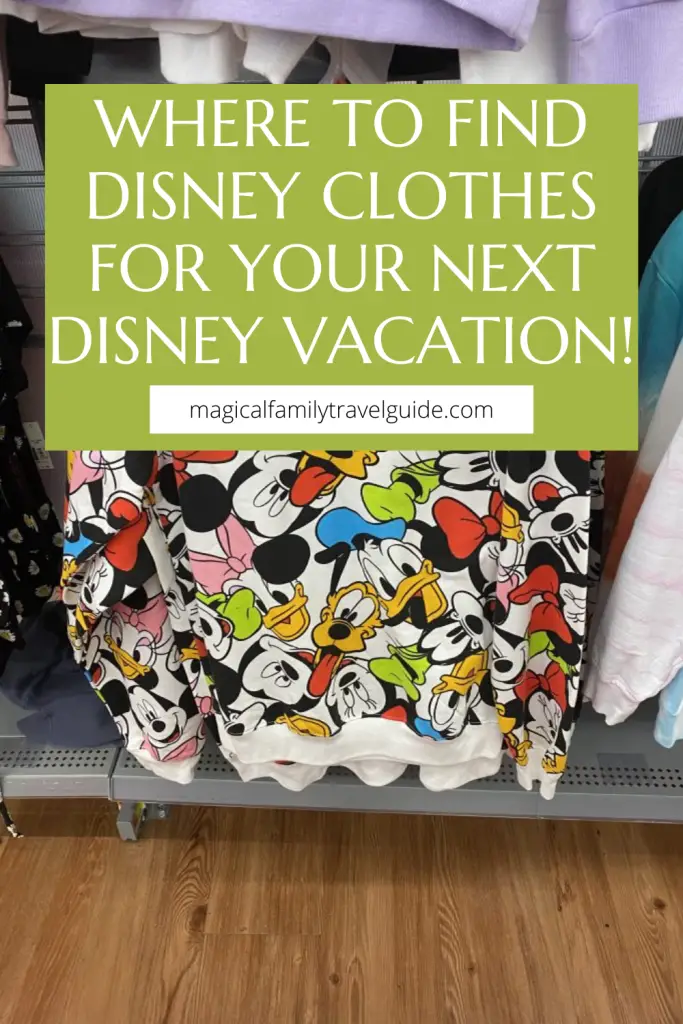 Where to Buy Disney Clothes
Visiting the Disney parks begs the age-old question, "But what will I wear?" For many, a t-shirt with their favorite character on it or a themed backpack will suffice, while others are much more invested in planning the perfect outfit for the occasion.
If you are getting ready for an upcoming Disney vacation and you want to make sure you have your favorite
So let's take a look at clothing possibilities and where to find them.
Local Options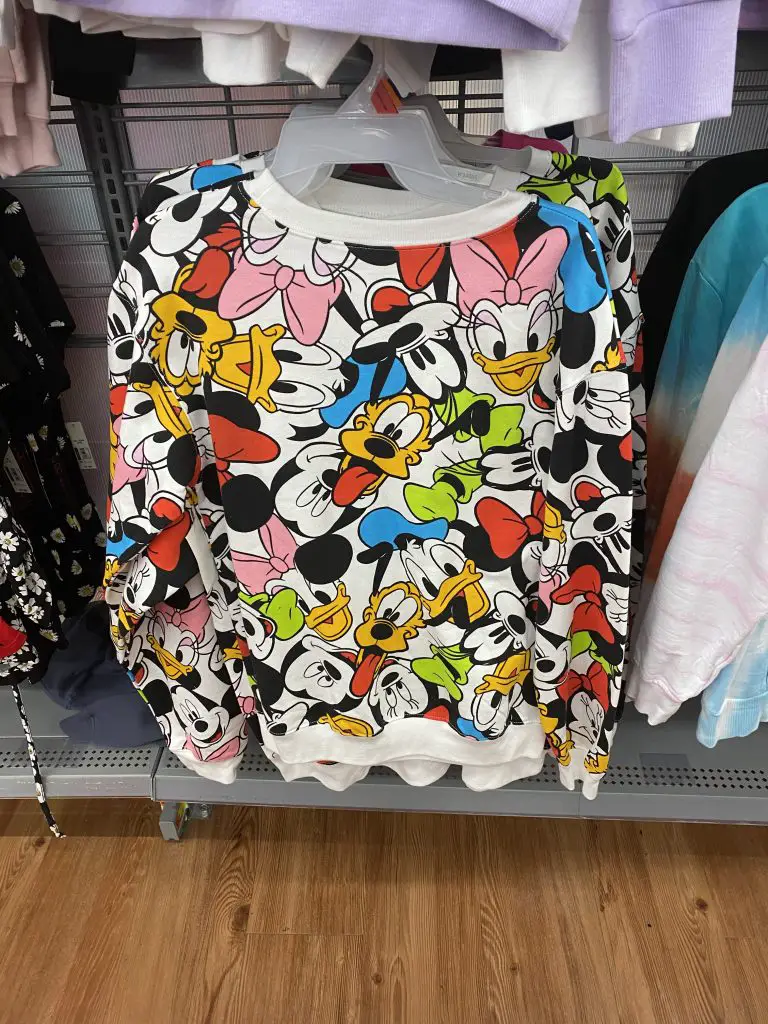 No matter where you live, most stores will have possibilities for buying Disney clothing that can be worn to the parks.
In recent years, there has been more Disney, Marvel, and Star Wars-branded clothing appearing in stores like Walmart and Target.
Meanwhile, check out your local stores for clothing that will bring a little more magic to your trip, without hurting your wallet. Most clothing items found at stores like Walmart and Target can be found for anywhere from $10-$30. I just picked up the sweatshirt you see above at a local Walmart for only $10. Trust me, they're there. You just have to keep your eyes open.
Pro Tip – The Target and Walmart stores near Disney properties almost always have way more selection than you'll find anywhere else. If you can hold off on buying a few things until you get to your trip, this can be a fun place to stop before you head to the parks.
Target
Target specifically has some stores with a "Disney Store" located inside with Disney merchandise and clothing.
Currently, there are only 25 locations across the U.S. with this shopping experience available. To find out if there is a participating Target near you, try the Disney Store Finder.
Another little tip is to keep an eye on the dollar section at Target. They don't always carry the same products, but if you're lucky, you'll find some Disney items that you can bring with you. The other day these cute little hats were occupying the shelves just waiting to be claimed.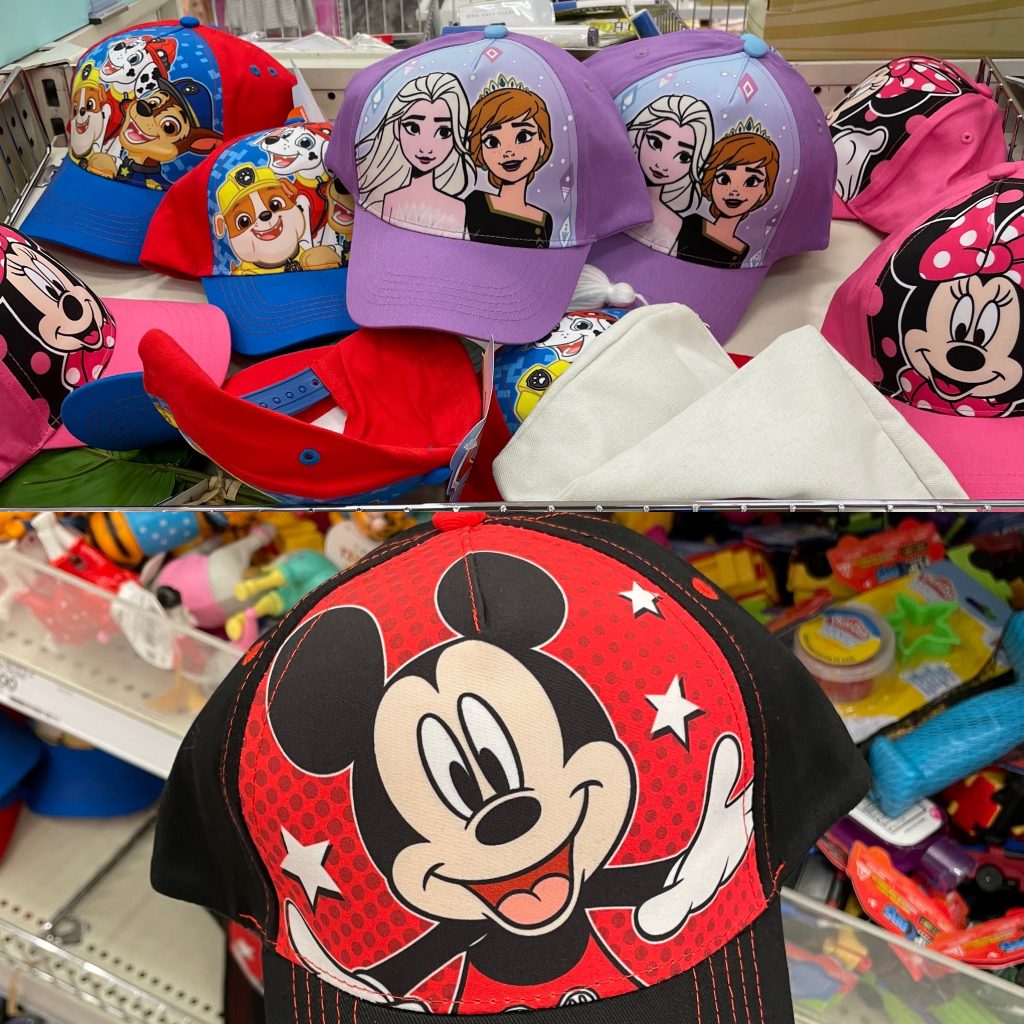 But remember, that the inventory between stores can vary. So if you find something that catches your eye, I would grab it while you can.
Walmart
Walmart always has a variety of Disney clothing, and they are often very affordable. They have tons of options for kids but also some really fun items for adults as well.
The inventory will obviously vary depending on the time of the year – if you are looking for something specific, you might want to head back frequently. During the holiday season, you can often find Christmas Disney-themed items for a great price.
I've seen everything from t-shirts and hoodies to pajamas and sweatpants. They tend to have a lot of classic Disney movies featured. If you have a little girl who wants to dress up as her favorite princess, they have a nice variety of princess costumes that don't cost an arm and a leg.
I do feel like the items tend to be geared more toward females (especially female children), but there is bound to be something for everyone.
Kohls
Kohls's is another great store where you can find Disney apparel. While many of their items seem a bit overpriced, if you can take advantage of a sale (especially when Kohls's cash is involved), you can find some of the best deals around.
They have some really cute outfits for both males and females, and they tend to have a nice selection of newer Disney characters (for instance, I just noticed they have some fun Encanto shirts).
While socks aren't the most visible thing you'll see in your outfit, they have some great Disney-themed socks for children!
Ross and TJ Maxx
These discount retailers are great places to find fun Disney clothes for every age! They often get the overstock/unsold inventory from places like Walmart and Target, and you can often find a really good deal.
Old Navy
I feel like Old Navy stores aren't as common as they used to be, and their selection isn't as great as some stores. With that said, you can sometimes find some real gems, so if you have one nearby, it's worth stopping by.
Hot Topic often has Loungefly Bags, but they also have some very unique and fun outfits that you can buy. This is a great place to go for more adult-friendly outfits/costumes.
THey are an official Disney distributor so you know the items are going to be high-quality, so definitely take a good look to see what they have!
Thrift Stores and Garage Sales
Some of the best gems can be found second-hand. Frequent your thrift stores and, if it's garage sale season, garage sales to see what you can find. Vintage is always fun!
The Disney Store
A slightly pricier option is to visit your local Disney Store if you have one in your area. Disney Stores are like an extension of Disney Parks. You can find some of the same merchandise and clothing, but oftentimes, it will differ. And inventory is changing quite frequently, so there are always more options. Disney Stores have toys, swimwear, clothing, spirit jerseys, shoes, backpacks, jewelry, and more, for both children and adults.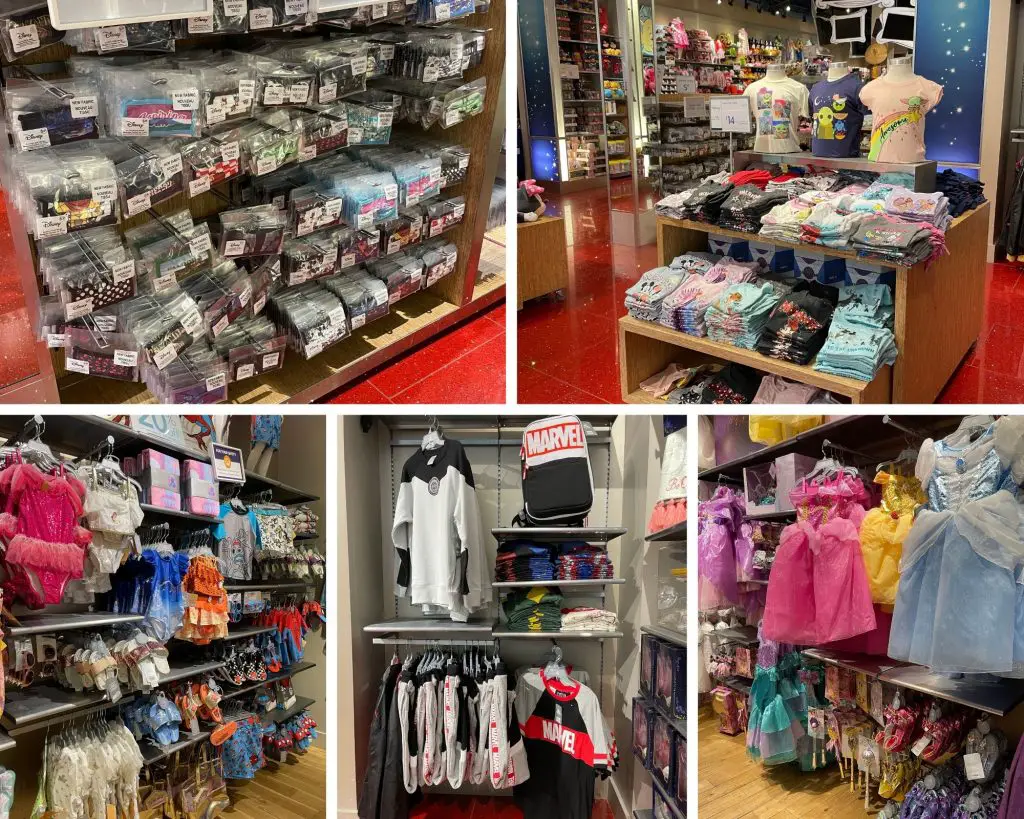 The Disney Store is a favorite of mine because you can usually find your favorite character or series somewhere in the store. I have purchased many t-shirts from the Disney Store because of their reasonable prices and variety. Adult t-shirts are usually around $12-$14, and children's t-shirts are usually between $10-$12.
Online Options
For those who don't live close to the stores listed above or enjoy the convenience of shopping online before your trip to the Happiest Place on Earth – there are even more options!
Pro-tip – before you do any online shopping, make sure you signup for Rakuten. Many online stores offer you cashback for purchases!
One option is the online website of all the brick-and-mortar stores listed above, including:
You can visit these websites as well and see what you can have shipped to your home or local store. However, online purchasing will sometimes have minimum purchase limits, so just be aware when you are making your purchases.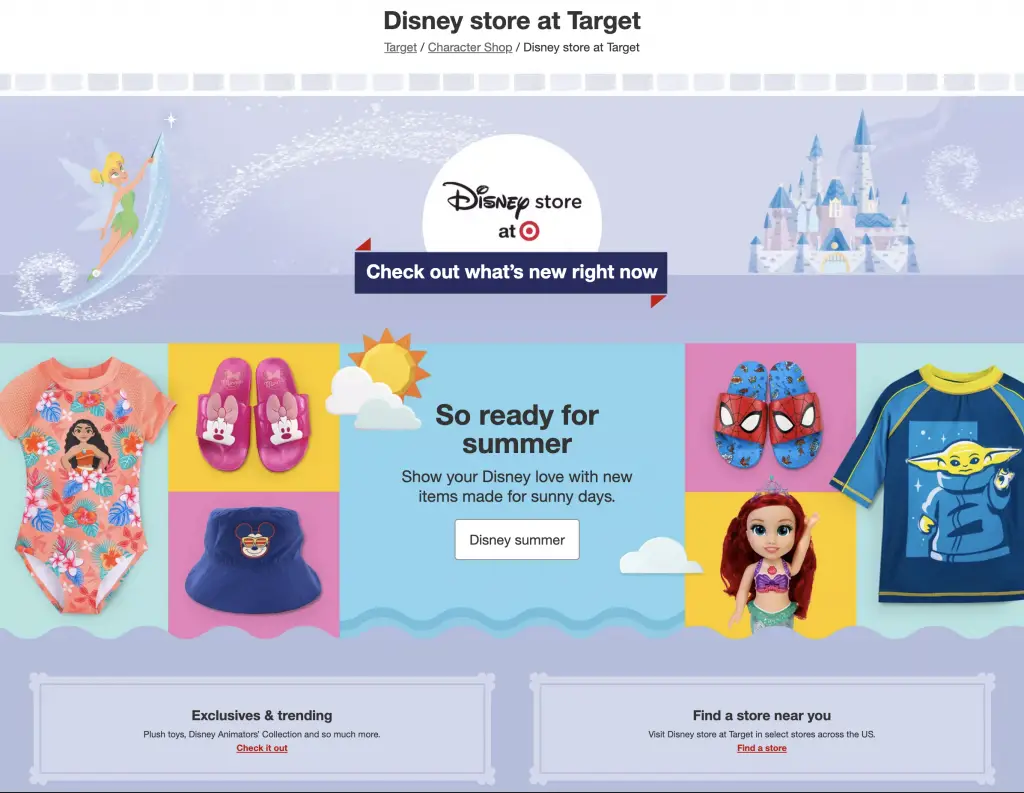 There are many people who are so talented and create/sell Disneywear. While there are various places you can find these items, Etsy is my favorite. You can find t-shirts (especially matching ones) or more extravagant outfits/costumes.
The Disney Store and the Disney parks also have an online platform called ShopDisney. Here you can find the latest clothing, toys, accessories, and home goods found in the Disney parks.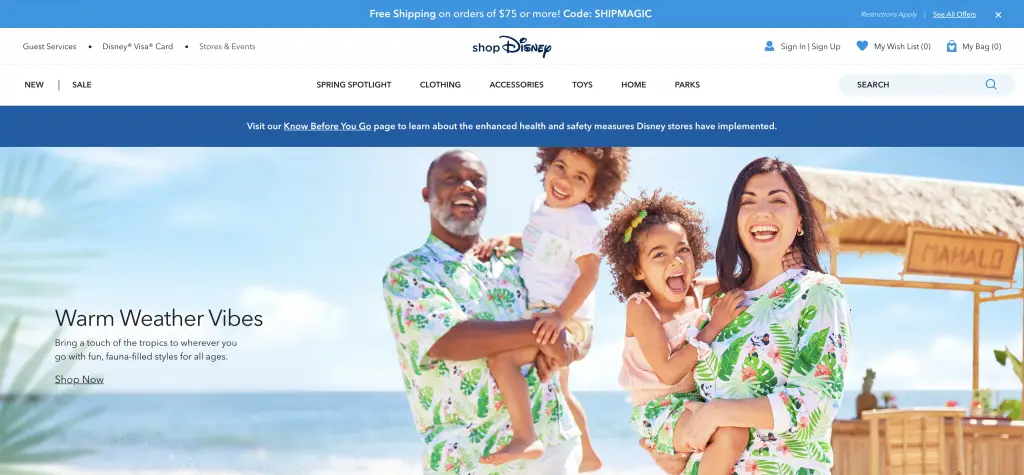 This is a fantastic option that my family has personally taken advantage of on a few occasions. Living far away from the parks, you don't have the ability to drive down and shop for all the fun new items. ShopDisney gives you a chance to bring a little of that Disney magic into your home, no matter where you live.
I mean, doesn't Amazon have everything? While you definitely want to pay attention to the sizing and reviews for different items, as well as what the materials are made of, you can find some really great items on here.
I would keep in mind that sometimes there are items on Amazon that you can find elsewhere for less expensive, so always make sure to price match!
Disney Parks
Finally, there is the option of going shopping on Disney property. Some people enjoy visiting Downtown Disney or Disney Springs a day or two before their park visit because World of Disney and other shops will carry the products you can find in the parks.
There are also stores throughout the park that you can visit and find different clothing items.
In this stores, you can find a variety of attire for all ages, including:
T-Shirts
Sweaters
Hoodies
Hats
Mouse Ears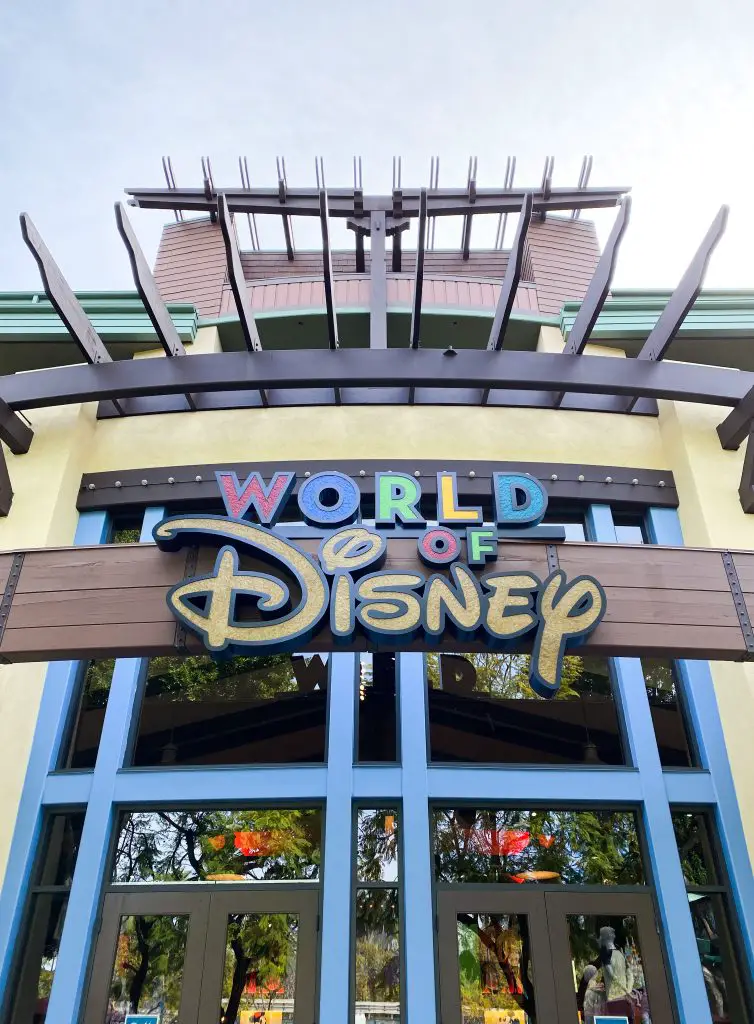 I have even seen some guests wear normal t-shirts into the parks and one of their first stops, when they enter the parks, is one of the clothing shops like the Emporium, where they will pick out their favorite outfit, purchase it, and change into it before enjoying the rest of their magical day.
Make Your Own
Feeling crafty? You can totally make your own Disney attire at home using SVG files you can buy on Etsy or design yourself using Canva and use a Cricut or Silhouette machine to add the decals to your favorite shirts, hats, and hoodies. If you are looking for more of a Disney-bounding type outfit, you can make items for these at home and with supplies from the craft store as well.
Many people LOVE to make their own personalized Disney outfits for their trips. This is a great way to have an outfit or costume that no one else is wearing!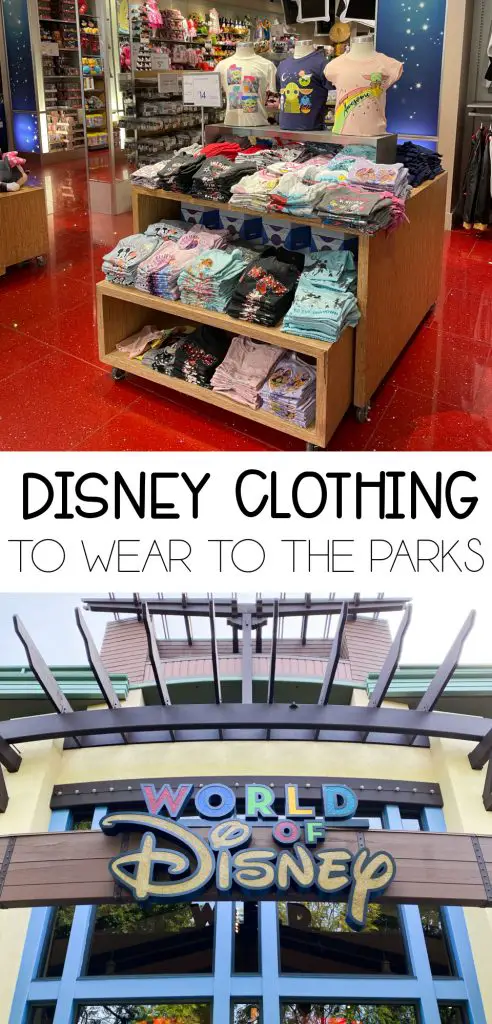 There are lots of options to find the perfect thing to wear to the parks to complete your magical visit to the Happiest Place on Earth. Just remember to keep your eyes open for your favorite characters and enjoy your visit!
More Articles You May Enjoy: