Disneyland vs California Adventure: Differences and Similarities You Should Know About
If you're thinking of visiting Disneyland Park or California Adventure, it's important to know the difference between the two parks. While they both offer great fun and excitement, there are some key differences that you should be aware of before making your decision. In this post, we'll take a look at what sets these two Disney parks apart from each other. So, if you're trying to decide which one is right for your family vacation, read on! We'll help make the decision easier for you.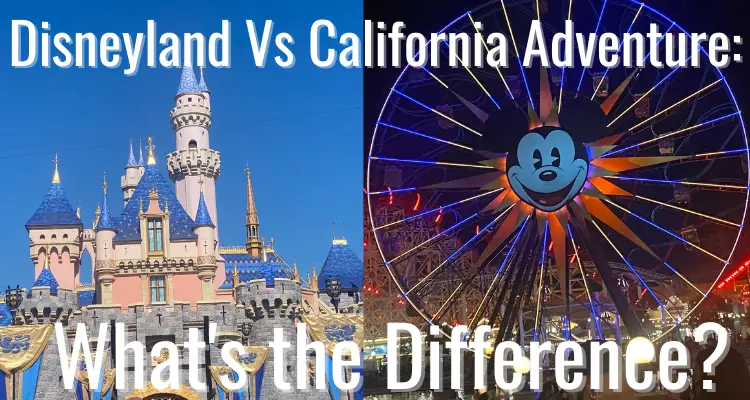 What the difference between Disneyland and California Adventure Is
Taking a trip, whether with family or friends, is a big decision! I recently visited Disneyland, and I have to say it's always a lot of fun regardless of my age. Disneyland is made up of two parks, Disneyland Park- the original Disney park- and Disney California Adventure Park. When deciding to go to the Magic Kingdom, you have the option of buying a park hopper ticket which will give you access to both parks, or you can choose one park to enjoy.
While I highly recommend the park hopper, it can be more expensive and not always the best option.
So the big question is, which park is right for you and your family, Disneyland Park or California Adventure?
Both theme parks are full of magic and fun that will keep everyone entertained, but with so much to choose from, it can be hard to decide which one is best for you.
We've put together a guide on the differences between both parks so you can make the best decision for your family.
But if you are in a hurry, here's an at a glance comparison of the difference:
Disneyland…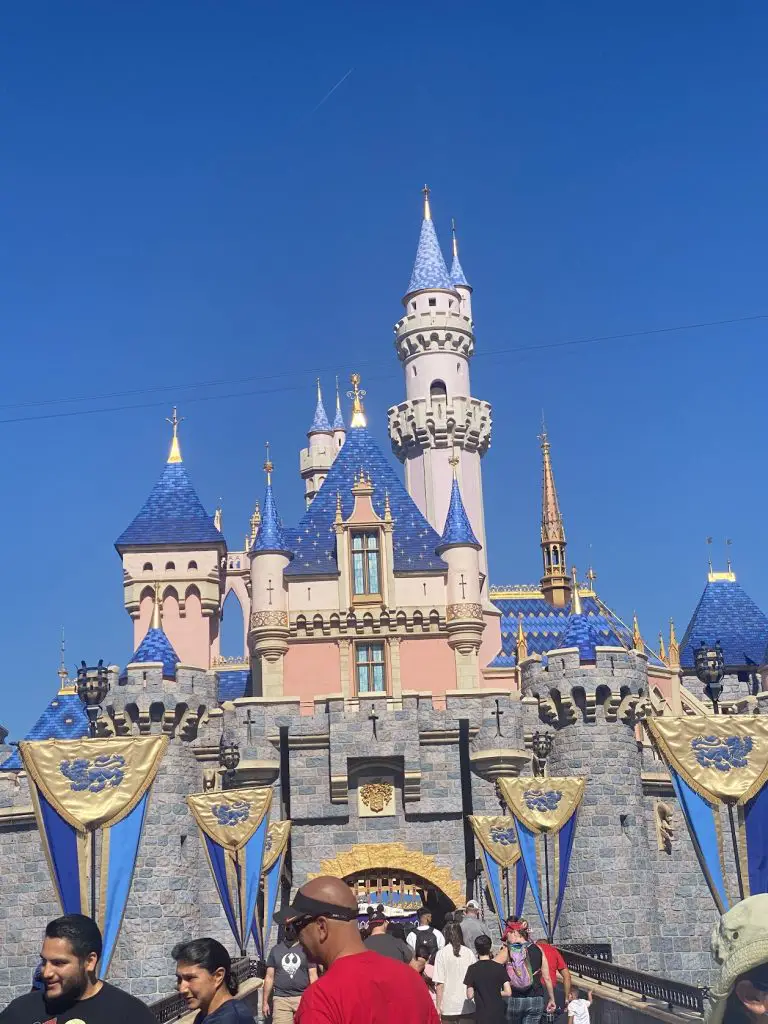 -Classic Disney Rides and Attractions
-Has more rides overall
-More little-kid friendly rides
-Has Galaxy's Edge
California Adventure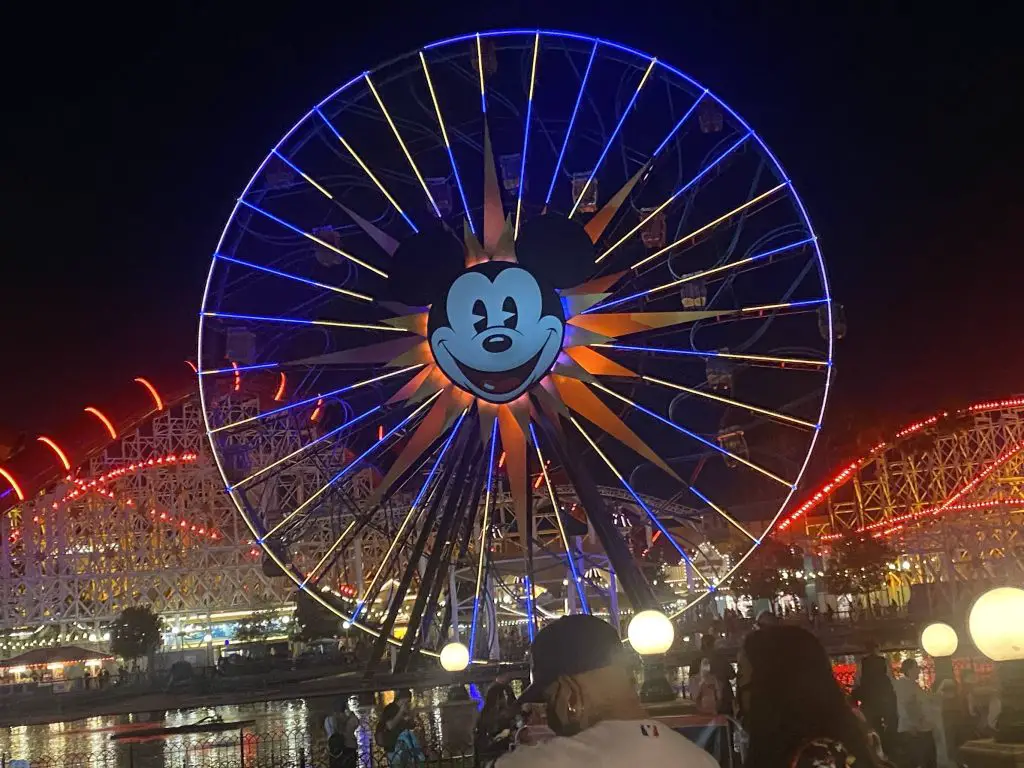 -Marvel Campus
-More Pixar Rides
-Better suited for tweens/adults
-Better access to – hotels
Book your next magical family adventure through our friends at Get Away Today! They are truly the Disney experts and can make planning your trip a breeze for both Disneyland and Disney World. You can browse their website or call 1-855-GET-AWAY. Make sure you tell them Magical Family Travel Guide sent you or use the code MFTG for $10 off a Southern California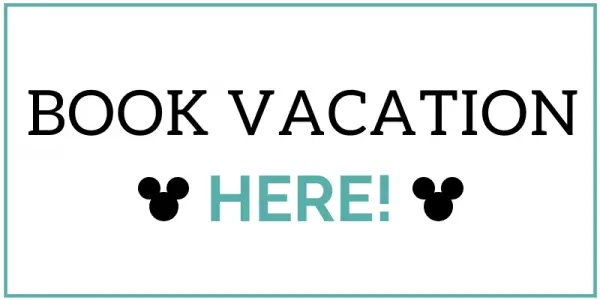 Demographics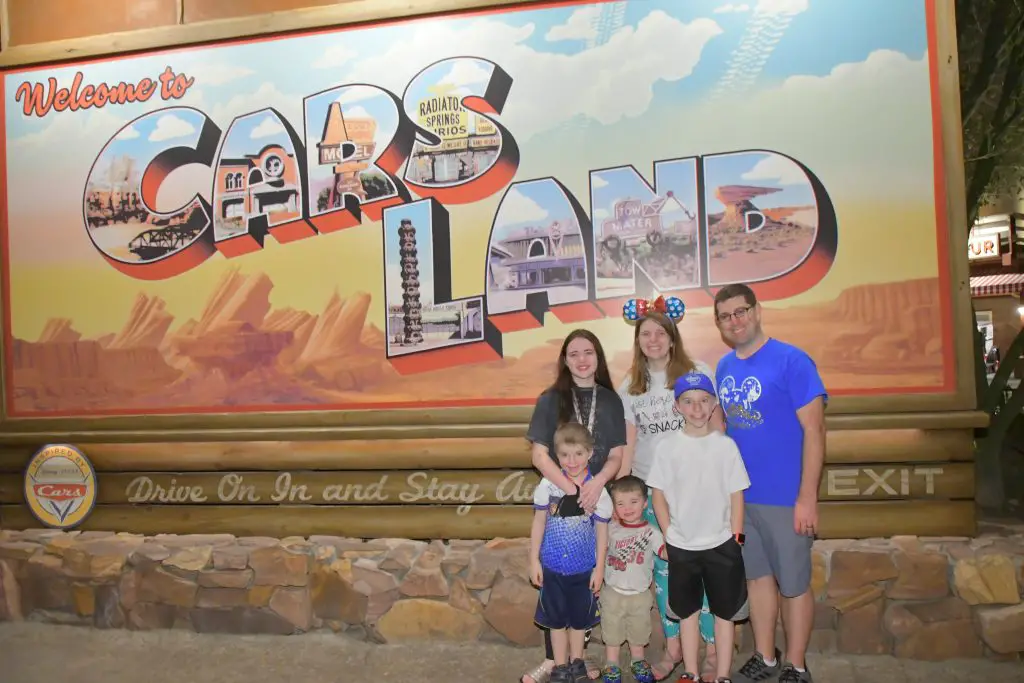 While we loved both parks, there is definitely a difference in the audience for each park.
Disneyland Park is more family-oriented because it offers attractions and experiences for guests of all ages.
From classic rides like It's a Small World to newer adventures like Millenium Falcon: Smugglers Run, Disneyland Park has something for everyone. In addition, the park is packed with character meet and greets shows, and parades that will keep the whole family entertained. With so much to see and do, Disneyland Park is perfect for families who want to create memories together.
California Adventure offers a mix of classic and modern rides. While still enjoyable for all, it seems to cater more towards older children and adults. This is most likely because it offers more thrill rides and attractions than Disneyland Park.
From the intense roller coasters like California Screamin' and Guardians of the Galaxy – Mission: BREAKOUT! to the water rides like Grizzly River Run, there is something for everyone who loves a good adrenaline rush.
In addition, the park has a number of shows and parades that will keep you entertained. While is does seem more geared towards an older crowd, there are that are perfect for younger children, such as:
The Little Mermaid – Ariel's Undersea Adventure
Toy Story Midway Mania

Mater's Junkyard Jamboree

Jessie's Critter Carousel.
Rides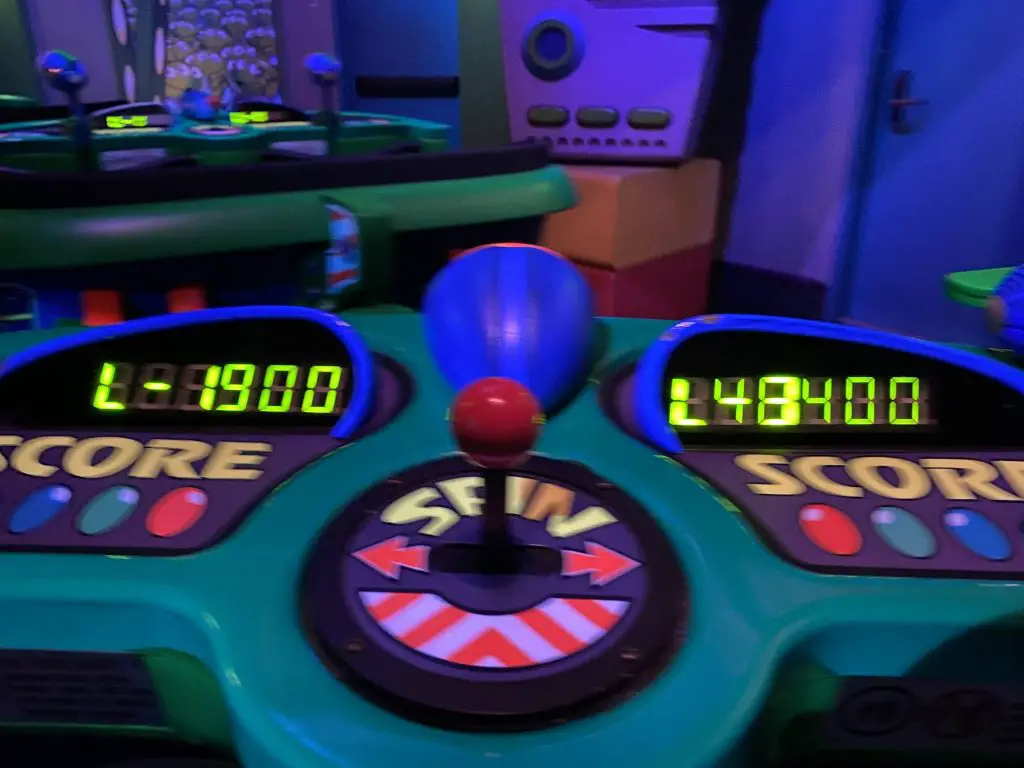 The rides are a crucial aspect of any park. Both California Adventure and Disneyland Park have many popular attractions that are enough to keep one occupied for the day. However, they are very different.
Disneyland Park is home to classics like Splash Mountain, Indiana Jones Adventure, Pirates of the Caribbean, Jungle Cruise, the Haunted Mansion, and Matterhorn Bobsled. They also have the new Star Wars-themed rides, along with countless classics that have been around since the beginning of Disneyland.
California Adventure has more recent additions, like the Radiator Springs Racers, Toy Story Midway Mania, and my new personal favorite, Web-Shooters: A Spider-man Adventure. If you're looking for a classic experience, Disneyland Park is your best bet. If you want something more modern, California Adventure is the better choice.
Entertainment
If there's one thing you can count on, it's that Disney will not disappoint when it comes to entertainment. There are plenty of shows, parades, character meetings, and events happening everywhere.
Shows
Disneyland Park is home to classic shows like Disneyland Forever and Fantasmic, while California Adventure has The World of Color. The Main Street Electrical Parade is a beautiful display of lights and music, while Fantasmic is a thrilling show with pyrotechnics and water jets.
The World of Color is a spectacular show with water, fire, light, and music that celebrates the magic of Disney storytelling. It's a must-see show for any Disney fan! These live shows have been canceled because of Covid for the past few years, and it was just announced that they will be returning to the parks!
While there are of course the big shows, there are also smaller ones that happen all throughout the day at both parks.
At Disneyland Park you can enjoy:
The Royal Theatre
Main Street Cinema
Enchanted Tiki Bar
The Disneyland Story presenting Great Moments with Mr. Lincoln.
California adventure has:
Walt Disney Imagineering
Mickey's PhilharMagic
Hyperion Theater
The Disney Junior Dance Party.
These
shows are a great way of giving your feet a break for a little bit, while still enjoying the magic of Disney.
They both are within walking distance to the Downtown Disney District, where you can find even more food and entertainment options.
Characters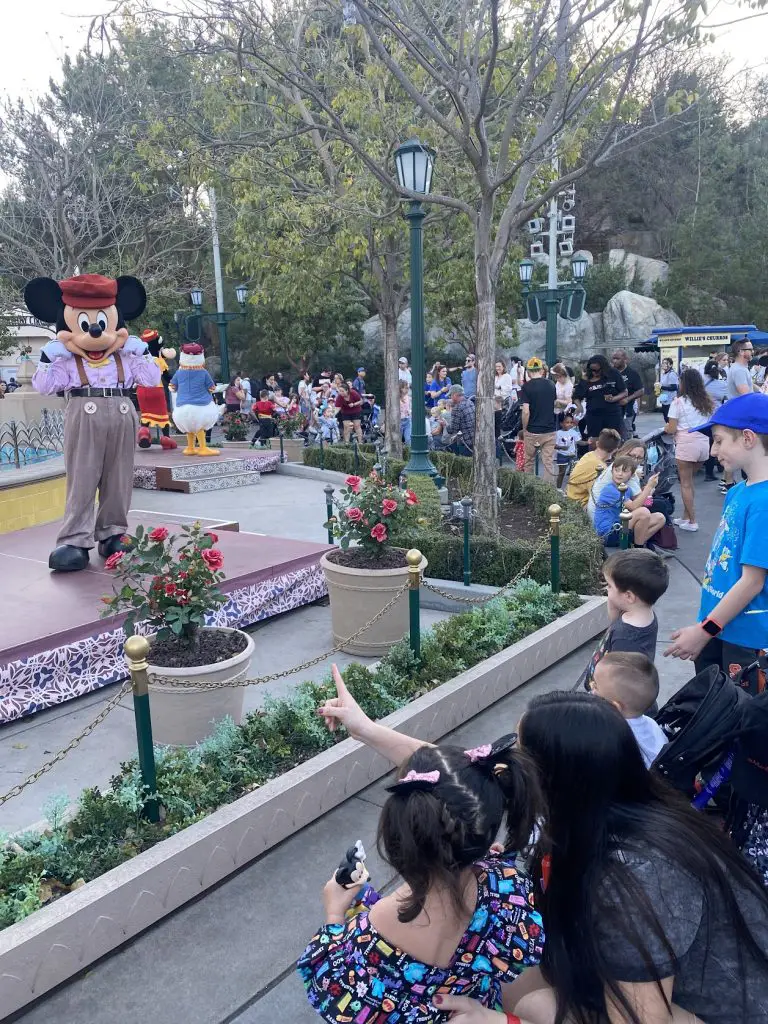 When it comes to Disney characters, Disneyland Park and California Adventure offer two very different experiences. Disneyland Park is home to classic characters like Mickey Mouse, Minnie Mouse, Cinderella, and Snow White.
Meanwhile, at California Adventure you can find more recent characters like Buzz Lightyear, Lightning McQueen, and a multitude of Marvel Characters. They do have MIckey and Friends, though they are usually dressed up in outfits you wouldn't traditionally see them in.
While we were at Disneyland Park, I personally felt that I saw more Characters at California Adventure. There were plenty of little shows going on, from fun and interactive demonstrations with the Warriors of Wakanda to talking with Joy and Sadness on the Pixar Pier.
Disneyland Park did have different characters out and about. They just weren't as frequent as at California Adventure. This also could just be because of social distancing for Covid restrictions. Because Disney is more crowded than California Adventure, there may be less space to social distance the Characters.
Events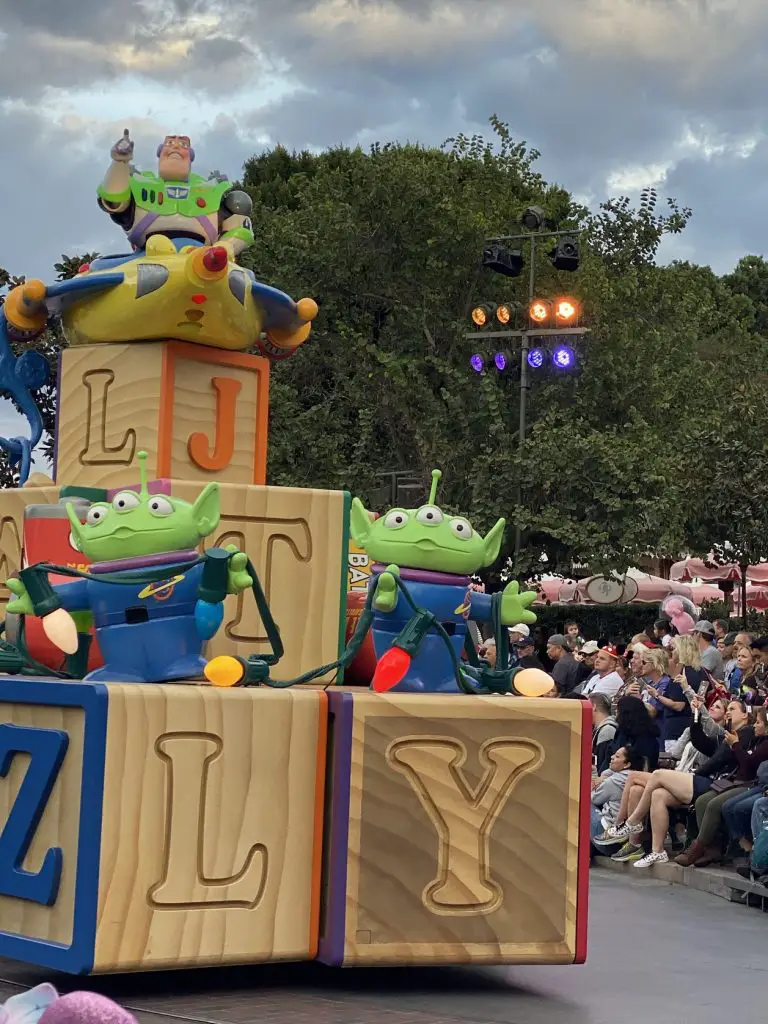 There are plenty of special events that go on throughout the year, such as, Halloween, Christmas, Valentine's Day, Lunar Year, and Disney after Dark.
Both parks have different events for Halloween and Christmas, but a few different ones at other times of the year. Disneyland Park has a variety of events, such as Día de los Muertos, Disneyland After Dark: Star Wars Nite, and Disney Merriest Nites. While California Adventure offers a wide spread of events, such as the Oogie Boogie Bash, Lunar New Year, and Plaza de la Familia.
California Adventure has food fests, so if you are a foodie that wants to try a variety of food, you will definitely want to plan your trip during one of these events.
Disneyland Park and California Adventure offer different events throughout the year that are sure to entertain everyone in your family. Whether you're looking for a spooky Halloween event or something festive for Christmas, both parks have you covered. Be sure to check out the calendar of events before your trip to see what's happening during your visit!
Parades
Disneyland Park is famous for its parades, which include classic Disney floats and characters. California Adventure doesn't have quite as many extravagant parades, but it does offer the Pixar Play Parade, which features characters from hit movies like Toy Story and Monsters, Inc.
If you're looking for a parade-filled experience, Disneyland Park is the place to go, but California Adventure still offers a good time if that's not your main priority.
Food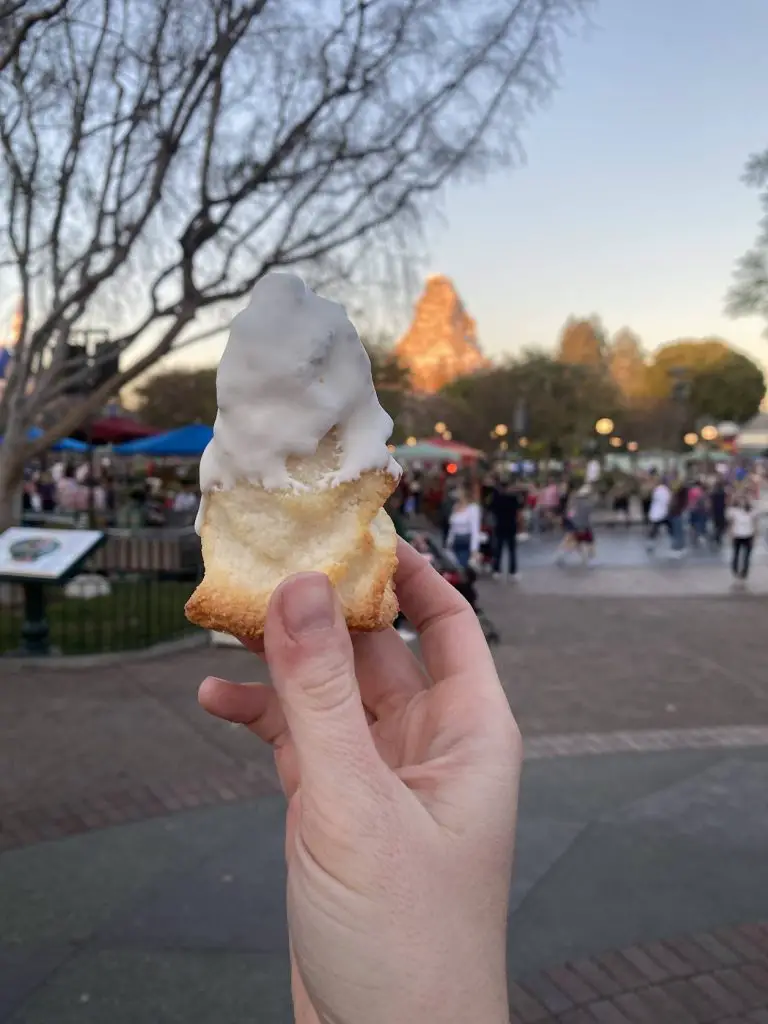 Disneyland Park and California Adventure both have a variety of dining options, but they offer different types of cuisine. Disneyland Park has mostly American options such as burgers, fries, and pizza. California Adventure, on the other hand, offers a wider range of food options from around the world.
There you can find everything from tacos to pad thai! California Adventure also has multiple food festivals throughout the year. I got the chance to experience the Lunar Year festival and if you ever have the chance to go to one of the food festivals, I'd highly recommend it!
Another difference between the parks, and something to keep in mind, is that Disneyland Park doesn't allow alcohol in the park while California Adventure does.
One experience you don't want to miss out on, if you love character interactions, would be character dining. Disneyland Park is the only park that has a character dining experience, besides in the Disneyland hotel resorts. It's at a place called Plaza Inn and you can enjoy breakfast and talk to a variety of characters.
Themed Lands
Themed lands are an important part of any amusement park. They give visitors a place to explore and really get into the experience of being in that world. D
Disneyland Park has Nine themed lands:
Adventureland,
Critter Country
Fantasyland
Frontierland
Main Street U.S.A.
Mickey's Toontown
New Orleans Square
Star Wars: Galaxy's Edge
Tomorrowland
While
California Adventure has eight:
Buena Vista Street

Paradise Gardens

Pixar Pier

Cars Land

Pacific Wharf

Grizzly Peak

Hollywood Land

Avengers Campus.
Prices
Now you might be thinking, "There has to be a difference in the ticket prices?" Well, you'll be surprised to know there isn't! When purchasing the ticket it's just labeled 'One Park Per Day,' so the price of the park ticket doesn't have to be a factor in deciding which one you go to!
Final Thoughts
In the end, it all comes down to what kind of experience you are your family is looking for! If you are diehard classic Disney fans, you have younger children or you just want some good ol' Disney fun, Disneyland might be the place you'll have the best time. But if you have teenagers (or are an adult), you love Marvel and Pixar, and you are looking for even more thrill, California Adventure is going to be a great option.
So, which park is right for your family- Disneyland Park or California Adventure? If you want to experience classic Disney magic, then Disneyland Park is the right choice. If you're looking for something a little more adventurous and modern, California Adventure has got you covered. No matter which park you choose, you're sure to have a magical time visiting the happiest place on earth!
Book your next magical family adventure through our friends at Get Away Today! They are truly the Disney experts and can make planning your trip a breeze for both Disneyland and Disney World. You can browse their website or call 1-855-GET-AWAY. Make sure you tell them Magical Family Travel Guide sent you or use the code MFTG for $10 off a Southern California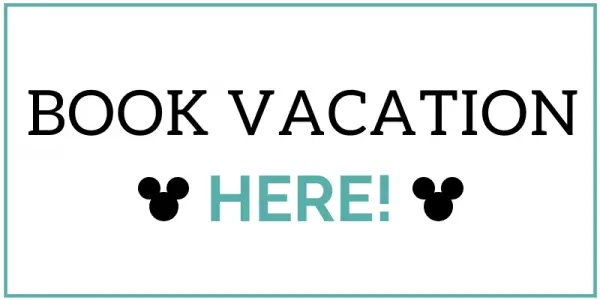 More Articles You May Enjoy: