20+ Hotels with Disneyland Shuttle (Free and Paid)
We've put together a list of over 20 Disneyland park hotels that offer free or paid shuttle service. So whether you're looking for convenience or affordability, we've got you covered! Check out our list below and start planning your dream Disneyland vacation today!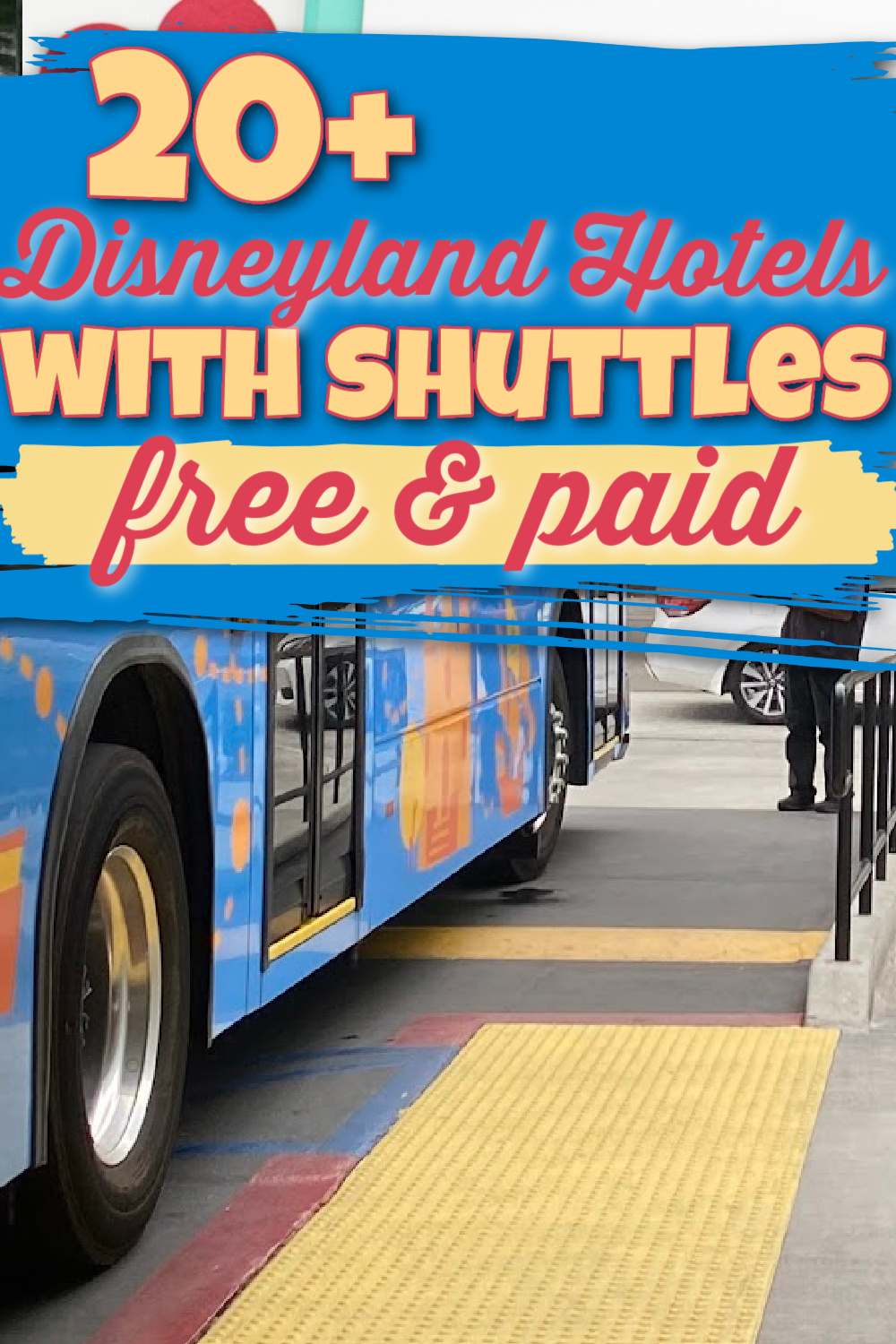 There are so many decisions that go into deciding for a Disneyland hotel for your vacation.
Distance, comfort, fitness center, free breakfast, pool…lots of different factors to consider!
For anyone who isn't taking their car to Disneyland, the ease of walking or the transportation options should be at the top of your list.
While there are pros and cons to riding shuttles, for many, they end up being the most convenient option.
If you've decided you'd like to stay somewhere with a shuttle, here are our options!
Hotels with FREE Shuttles to Disneyland
Here are four hotels near Disneyland that have a free shuttle included with your stay.
This hotel has been a favorite of Disneyland goers for many years. It's actually really close to the parks, so you may not even need a shuttle. However, for those that still want one, the shuttle is free to and from Disneyland. They also have free parking, free breakfast, and just offer a very convenient and comfortable stay. The ratings are actually really high, too!
The Double Tree is five miles from Disneyland, so it's not walkable at all. It's great for people that are also going to Knotts Berry Farm, as it's only one block away.
It does have a great shuttle option though which is free for all guests. The only thing to keep in mind is that you have to make a reservation, so just make sure you plan ahead so you don't get stuck without a ride!
This hotel isn't actually that far to Disneyland, but they have a free shuttle included for all guests. I've had a lot of people say they've enjoyed their stays here, and that it's a great option
This is a perk only given to those who book through Get Away Today, so make sure you book through THIS LINK to take advantage of their promotion. It includes free ART shuttle passes for everyone in your party, which is a pretty sweet deal. They also have a free breakfast, which is always a bonus!
This hotel doesn't have all the bells and whistles, but it does have a free shuttle! It's also really inexpensive as far as Disneyland hotels go.
Hotels near Disneyland on the ART Route
The Anaheim Resort Transit (ART) is a bus system in Anaheim that goes to a ton of hotels for pickups throughout the day. I'll share more about the pros and cons at the end of this list, but here are all the hotels that you can ride from (this list is from their website, current as of 11/14/2022). Always check before booking to make sure this information hasn't changed.
I'll list the hotels I think are the best from their list first, followed by the rest. If there is an asterisk** next to it, it means you can book through Get Away Today. All of these ones listed in this first list are through Get Away Today.
Howard Johnson Anaheim – This is a FANTASTIC hotel, especially for families. It is close enough to walk, but I love that you can ride the shuttle, too. We've worked out a special deal with them as well for all of you:
20% off Disneyland Magic Key Passholder Discount – Corp code: 1000025935. You should call them in order to override the minimum length stay.
15% off Discount for everyone! Corp code: 1000022077
Here are the rest of the hotels on the ART route:
America's Best Value Inn
America's Best Value Inn (W) Ball Rd.
Anabella Hotel
Anaheim Islander Inn & Suites
Anaheim Residence Inn Maingate
Anaheim RV Park
Ayres Hotel Anaheim
Ayres Inn Orange
Best Western Meridian
Best Western Pavilions
Cortona Inn & Suites
Days Inn Anaheim
Desert Palm Suite
Dolphin's Cove
Econolodge
Embassy Suites
Extended Stay
GreenWood Suites
Harbor RV Park
Hilton Anaheim
Holiday Inn Anaheim
Holiday Inn Hotel & Suites
Hotel Menage
Hyatt House
Hyatt Place
Knight's Inn
La Quinta Inn & Suites
Motel 6
Peacock Suites
Portofino Inn & Suites
Quality Inn & Suites
Ramada Maingate North
Ramada Plaza
Red Lion Hotel
WorldMark Anaheim
How much does the ART cost?
According to their website, here are the current fees. It's actually pretty reasonable!
3-910+65+ or DisabledOne-Way Pass$4$1.50$1.50One-Day pass$6$2.50$2.503-Day pass$15$3.50$3.505-Day pass$25$5.50$5.50
Pros and Cons of Using ART for Disneyland
As lovely as a shuttle that drops you off at Disneyland sounds, it's not always the best option. Here are some pros and cons:
PROS
Picks you up right at your hotel
Drops you off right at Disneyland
Relatively inexpensive
Good option for those who have kids in car seats and can't take advantage of options like Lyft or Uber.
CONS
It's not always super reliable with the times, at least the last time we rode it.
If your hotel isn't one of the first pick-up spots, it can be hard to get seats – sometimes you'll have to wait for another one
You have to collapse your stroller, which can be annoying, especially if you have a sleeping child (this is why I recommend baby carriers for Disneyland).
They can be busy at night, you may have to wait awhile.
Where is the Disneyland Shuttle Drop Off?
You will be dropped off in the East Shuttle Area. This is conveniently located right outside the park entrances. This stop gives you access to everything you need in the Disneyalnd area, including the different on-site Disneyland hotels, both Disneyland and Disney California Adventure Park, and Downtown Disney.
Well, I hope that this was helpful in helping you find a hotel that offers a shuttle to Disneyland! Some of the best hotels are on this list. Let me know if you have any insight on these hotels or the shuttle options.
More Posts You May Enjoy: